Earlier in the disrupted 2020 Formula 1 season, Williams appeared to have made a significant breakthrough when #1 driver George Russell & his Williams FW43 began regularly progressing to the second part of qualifying – for the quickest 15 cars in the field – never having managed it in 2019.
With that hurdle overcome, it seemed that the next logical step was to try and replicate that pace come Sunday's Grand Prix – something that seemed somewhat of a struggle at first, but did – on occasion – look achievable. But on a number of occasions this year, the Williams pair have indeed been able to at least match the race pace of the cars around them.
However, all too often, with a decent grid berth, and having seemingly competitive race pace, Williams' starts (and restarts – rolling or standing) have been their undoing. Tardy getaways, first lap collisions, and too many places lost in the melee of lap 1 of a Grand Prix have resulted in Williams' hope of a decent finish all but scuppered almost as soon as it has begun.
On strategy too – where Grand Prix have been won and podiums secured in a sometimes barmy 2020 F1 season – Williams have been found wanting, where a bolder call might have resulted in a nice haul of points or better (a-la Gasly, Stroll or Sainz), they've opted for the safe option and it's yielded the square root of f*ck all.
If Williams can string together those four cornerstones of a Grand Prix weekend, that they've shown are possible in isolation, then it could unlock the door to the top ten.
In this weekend's Russian Grand Prix, qualifying (for Russell at least) was good, securing up 13th on the grid, team-mate Latifi unlucky to go to the very back, following a gearbox change.
The start, too, was stellar. By turn two, George was dicing for 8th with a Racing Point and the two McLarens, and ahead of both Ferraris, before getting tangled up in the mess that ended Carlos Sainz & Lance Stroll's afternoons, shuffling him back to 16th by the end of lap 1.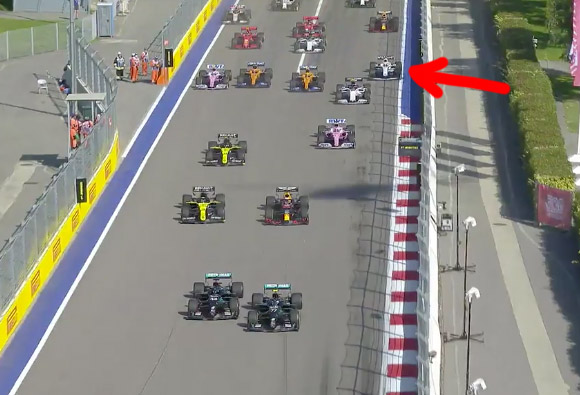 Williams took the opportunity to pit Russell for the hard tyre under the ensuing safety car, switching from their 'plan A' in an attempt to capitalise on the unfolding race conditions, but sadly driver error led to a big lockup and a flat spot on a tyre that still had a lot of laps yet to do.
This meant George would stop three times to everyone else's one, cementing him to the very back, coming home 18th out of 18. Nicholas Latifi, who stopped just once, finished two paces ahead in 16th.
So, on paper at least, the 2020 Russian Grand Prix is a familiar story, but yet more encouraging signs were there. Qualifying pace was good, as was the launch. Williams made a bold strategy call too (which we've seen all too seldom – perhaps Simon Roberts' influence), that under different circumstances could have given Russell a good chance of a strong finish.
Unfortunately though, a messy lap 1, coupled with too many mistakes by Russell (by his own admission) put paid to any hope of any points once more.
On to the Eifel Grand Prix in two weeks time!