Etonian Piers Courage, heir to the Courage Brewery Company, was a young Formula 1 driver tipped for success by many, but was sadly never destined to realise his full potential.
In his schooldays, Piers would 'bunk off' and head to Silverstone, where he first found a taste for racing cars that would stay with him for the rest of his life.
In an effort to do the decent thing and repay his parents' investment in his schooling, Piers pursued a career in accountancy, but on discovering that an office job wasn't really for him, and his parents being of considerable means, he was able to convince them to buy him a Lotus 7 with which to go club racing. This was on the understanding that it would be part-time, and his main focus would continue to be studying for his accountancy exams.
This two-pronged attack on life lasted for another couple of years, before Piers flung himself headlong into Formula 3 where he'd spend four seasons, showing definite speed, albeit with a bravado that would contribute to a number of DNFs.
It was in F3 that Piers came to the attention of Colin Chapman. This would lead to him not only winning a number of F3 races in one of Chapman's Lotus 41s, but some time later being offered the seat in the second Formula 1 Lotus following Jim Clark's death in 1968 – an offer Piers would turn down.
During Piers' heady F3 days he would share a London flat with good friend Frank Williams, penniless at the time, but with a grand vision of getting a team into Formula 1 (but not before he'd attempted to realise his own driving ambitions).
Piers was signed by BRM in 1967, where he was pitted against another young British charger Chris Irwin for a single Grand Prix seat. Two drives and a spin and a crash later it looked like his chance had gone, but he headed to Australia for the Tasman series, and after beating Jim Clark and Graham Hill no less to for the win, his F1 dream was back on.
Opting to drive again for Reg Parnell & BRM rather than taking up Colin Chapman's offer to play a supporting role to Graham Hill at the mighty Team Lotus, Piers put in some sterling drives in sub-par machinery in Formula 1, alongside a limited Formula 2 campaign in a Brabham, entered by his old pal, and now team-owner Frank Williams in which he scored a hatful of podiums including a win in the last race of the season in Argentina.
Buoyed by their success, Frank made the step up to Formula 1 in 1969 and took Piers with him. Equipped with a Brabham BT26 with a Cosworth DFV bolted in the back, Piers was to mix it with the likes of Jackie Stewart, Graham Hill and Bruce McLaren all season long, eventually finishing the season with a couple of second places and a bagful of points.
1970 brought a new deal for Frank to switch to the newly designed De Tomaso chassis, but the new car quickly proved to be cumbersome and unreliable and the season started poorly.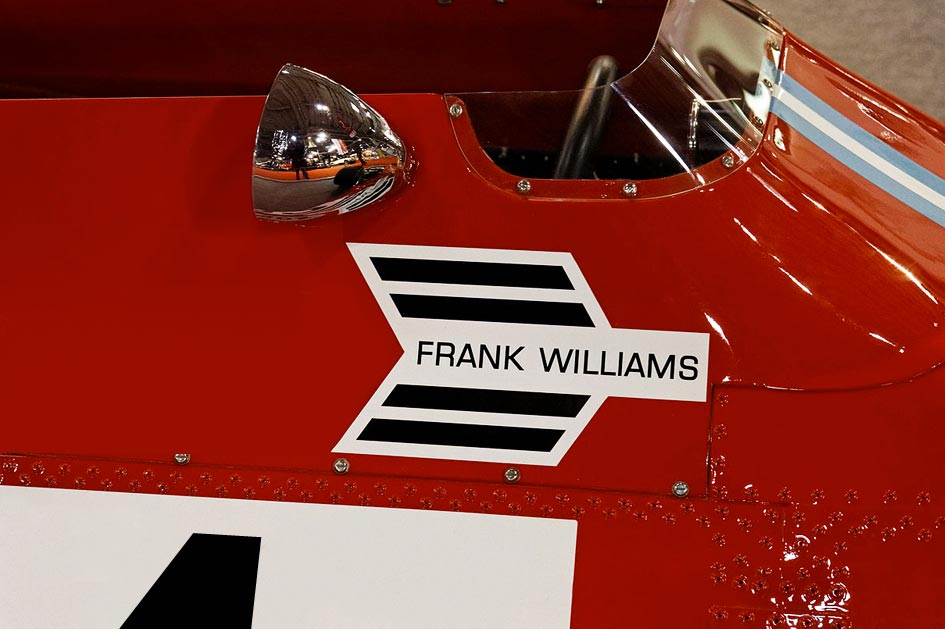 In the Dutch Grand Prix, held on 21st June 1970 Piers started in 9th place, and things appeared to be improving for the Englishman and his De Tomaso. He was moving steadily through the field when on lap 22 he crashed fatally after something broke (quite what has never been determined) on the car as he rounded the tunnel oost right hander on the quick back section of the Zandvoort circuit, the car leaving the track, disintegrating on contact with the dunes and bursting into flames, fuelled by magnesium used in the De Tomaso's construction.
It is presumed that on impact with the sand dunes, a wheel hit Piers on the head, dislodging his helmet and killing him instantly; The ferocity of the fire and the length of time it took to extinguish the flames made it impossible to subsequently determine the cause of the accident from what was left of the car.
Piers is remembered as being a gentleman. As courageous a driver as there has ever been, he was blisteringly quick, if not a little erratic – something he was quickly overcoming. Sadly he never got the chance to prove how good he was in a truly competitive car.