Williams Martini Racing is an F1 team competing in the 2018 Formula 1 World Championship.
Williams Martini Racing was founded in 1977 by Sir Frank Williams and Sir Patrick Head as Williams Grand Prix Engineering, the first Williams car the FW06 making its Grand Prix debut at the 1978 Argentine Grand Prix.
The Williams F1 Team is the third most successful Formula 1 Team of all time in terms of wins, behind Ferrari and McLaren and ahead of Mercedes, Red Bull, Lotus, Brabham, Renault and Tyrrell.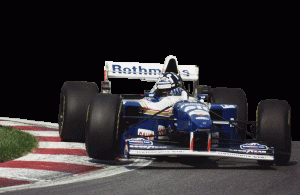 Team Williams has won 114 Formula 1 Grand Prix, seven Formula 1 World Drivers Championships and nine Formula 1 World Constructors Championships.
Sir Frank Williams is current Team Principal and his daughter Claire Williams is current deputy team principal.
Williams Martini Racing has three drivers. Two race drivers, Canadian Lance Stroll and Russian Sergey Sirotkin, and reserve driver Robert Kubica.
Paddy Lowe is currently Chief Technical Officer of the Williams F1 Team.
Williams current car for the 2018 Formula 1 World Championship is the Williams FW41.
Since 2014 Williams Martini Racing has been powered by Mercedes engines, and their title sponsor has been Martini.
Notable past sponsors of the Williams Team have been Rothmans, Saudi, Camel, Labatts, ICI, Sega and Winfield which have given Williams cars many iconic liveries.
Ex-drivers of Williams is like a who's who of F1. Ayrton Senna, Nigel Mansell, Alain Prost, Nelson Piquet and Keke Rosberg, who between them won every Formula 1 World Championship between 1981 and 1994 bar one, were all at one time Williams drivers.
Other Williams World Champions have included Damon Hill, Alan Jones and Jacques Villeneuve who each won a single world Drivers Title whilst with the team.
Britain's George Russell is The Williams Formula 1 Team's only confirmed driver for the 2019 Formula 1 season, with the other seat likely to go again to Sergey Sirotkin, although there are a number of drivers in the frame including Kubica, Esteban Ocon and Artem Markelov.
In 2019 Williams are seeking to recover from their worst season in Formula 1 after a 2018 during which they finished bottom of the constructors table.
Take a look at Williams' official team website (but come back soon won't you??)