Having been inexplicably sacked in 1990 by the Leyton House Formula 1 Team, Newey was quickly snapped up by Sir Patrick Head, having spotted the then 32 year-old Newey's potential.
With a greater budget at his disposal, Newey, alongside Head was able to develop ideas that had previously never left the drawing board. These ideas were to become the basis of the Williams FW14, a car that would go on to dominate the sport in 1992, once the gremlins that a technically advanced car is naturally afflicted by could be resolved.
The FW14 evolved into the FW14B and then the FW15, and another season of dominance was to follow in 1993. However, Newey and Williams would be the architect of their own downfall when it was decided that their cars were too good; too advanced, and many of its features were outlawed at the end of the 1993 season.
A tough season was ahead in 1994 when the balance of the FW16 suffered from the removal of traction control, ABS and active suspension.
Ayrton Senna's fatal crash at Imola during the San Marino Grand Prix was to be a low-point in Newey's career (as it was for many of those involved), the Italian prosecutors deciding that the Williams Team and a number of its senior figures including Newey were culpable (later acquitted) for the manslaughter of Senna.
With 1995 came another Williams car that many observers believed to be the class of the field, but with both titles going to Benetton, focus shifted to 1996, during which Damon Hill was able to secure his first World Drivers Title, and the World Constructors title for Williams.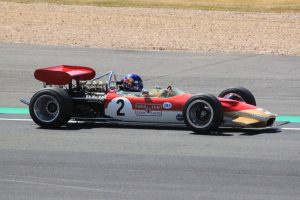 With this, Adrian Newey decided the time was right for him to pursue something else, and when McLaren approached him to become technical director, he duly accepted and his time at Williams was done.
Sir Frank admitted, in an interview given in 2012, it was a mistake to let Newey slip from his grasp.
"He wanted some shares that I didn't want to give to him at the time [which was] with hindsight, a mistake. Adrian is quite a remarkable individual."
And in lamenting his team's inability to come to terms with the pace being set by the then world champions Red Bull for whom Newey was working, he said:
"There's still a problem – it's called Adrian Newey. There's only one of him."