On a warm, hazy Tuesday morning in July 1983 at Donington Park, England, young Brazilian Formula 3 sensation Ayrton Senna approached the Formula 1 Williams FW08 awaiting him in the pitlane.
He was about to step into a Formula 1 car for the first time, and in doing so, write the first chapter of his F1 history.
In 1983, Senna was on a run of 10 wins from 13 British Formula 3 Championship races, and well en-route to that year's title.
Senna's reputation, even then, was such that Frank Williams arrived in time to see the prodigious youngster leave the pits for the first time.
Senna, with an assuredness about him, even at that early stage in his F1 career, proudly boasted in the garage before climbing into the car that he'd won all the races he'd ever taken part in at Donington Park and so it was a circuit that had been kind to him.
(This record would ultimately include Donington's single Formula 1 Grand Prix – the European Grand Prix of 1993, which Senna won by almost a minute and a half from Williams' Damon Hill and Alain Prost, in wet/dry conditions.)
In the moments between being strapped into his drive for the day and the Williams mechanics firing up the Williams FW08, Senna quietly and typically thanked God for his opportunity, and for allowing him to have the presence of mind to make the most of it.
And then he was off.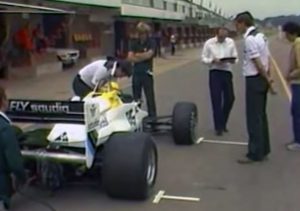 Senna went on to complete 40 laps of the 3.1km circuit with a best time of 1m 0.82 – a time quicker than reigning World Champion Keke Rosberg could achieve in the same car later in the day.
He looked completely at home in the car from the off. By the end of his session he was sliding the car this way and that, backing the car into corners as if he'd done it for years.
He was no doubt helped by the Williams FW08's nimble chassis and the Ford DFV – a very forgiving engine that didn't possess the raw, unabated power that many of its contemporary turbo engines could deliver.
It must be said however, that as reigning World Champion, Rosberg would be significantly less desperate than would a young driver trying to impress and engineer himself a Formula 1 drive for the following season.
At Senna's insistence, his laps were also completed at the beginning of the day when the car was new, whereas Rosberg would drive a car that had already been put through the rigours of a race distance.
Nevertheless, his time was an impressive one. Of course it was.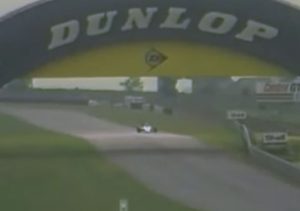 With the aforementioned assuredness, Ayrton Senna said post-test of the then reigning World Champions Williams:
"They still haven't arrived at an offer that I find reasonable."
And Senna being Senna he spoke of an 'unreasonable' offer from Bernie Ecclestone, then boss of the Brabham team who were in the process of powering Nelson Piquet to that year's World Championship that lacked "recognition of what I have done so far".
He was already showing he was adept at the politics of Formula 1 that would both help and hinder him throughout his career.
The truth was, Ayrton Senna was never in the frame for a Williams drive.
Both Rosberg and team-mate Jacques Laffite were already contracted for 1984, and Williams' policy was to only recruit drivers with experience.
When asked if Ayrton Senna would be in a Williams in 1984, Sir Frank Williams replied:
"No, the only reason he's here is that he came to see me quite a while ago and said, look – allsorts of people want me to sign for the next ten years" (believed to be Ecclestone, Peter Warr of Lotus and Ron Dennis of McLaren).
"So I said, well, we don't take on young, inexperienced drivers, but if ever you'd like to drive the car it'd be a pleasure…and then you might be better equipped to make your own decision about the future".
Senna, nevertheless, was happy with how the test had gone:
"It was everything I could have wanted, I learned a lot, got some consistent laps in and benefitted from having Frank Williams there to watch over everything."
Ayrton Senna then went on to test with McLaren and Brabham, neither of which were prepared to offer him a race seat for 1984, before opting to join Toleman, with whom he made his Formula 1 debut in his home Grand Prix in Rio, Brazil at the start of the 1984 season.
The rest, as they say, is history.