Growing up in and around Formula 1 it was only natural that Claire Williams would develop a passion for the sport her father has devoted his life to.
After graduating from Newcastle University in 1999 with a degree in politics, Claire Williams became press officer for Silverstone Circuits in the UK, before joining the Williams Formula 1 Racing Team, initially as Communications Officer.
Following spells as Head of Communications and Director of Marketing and Communications, she was promoted to the board of the Williams Formula 1 Team when Sir Frank Williams stepped down in 2012 where she represents the Williams family's majority and controlling shareholding of the Williams Group of companies.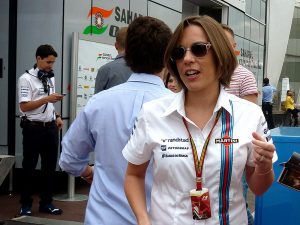 Claire Williams becomes Williams Deputy Team Principal
In 2013 she was appointed Deputy Team Principal of the Williams Formula 1 Team, but despite her father Frank remaining Williams' Team Principal, Claire is TP in all but name with full responsibility for the day-to-day running and strategic development of the Williams F1 team.
On being promoted to the position she admitted she had very big shoes to fill.
"You never want to let your parents down. When you're younger you don't really care that much, but when you're older you really want them to be proud of you. Dad has really put his trust in me. I'm always worried he is going to tell me to go home, but he doesn't." she said, adding "I'm not starting a team from scratch. I've inherited a team that's 40 years old, and with that comes issues within itself, so dad is there, and he is a huge tower of strength for me. Seeing him reminds me why I'm doing it, that I'm doing it for him and the family."
And of the team's recent struggles, Claire says:
"I question whether I'm the right person to be doing this job. If anyone in Williams says to my face that I was damaging the team, then I would go."
"Until then, I have much more I can do and I won't give up." showing her resilience and determination to restore Williams to former glories.
Of the Williams team's staunch independence she said:
"We would never be anyone's B team. But the collaborations we see now, we have to explore those. We don't want to be dinosaurs – the once-giant of Formula 1 who refused to change and adapt."
Claire resigned her role as Team Principal in September 2020 following Williams' sale to US Investment firm Dorilton Capital. She and Sir Frank also stepped down from the board of the team Sir Frank & Sir Patrick Head founded in 1977.