My latest quality eBay purchase (or 'racing car tat' as my wife prefers to call it) is the official FIA review of the 1990 Formula 1 season – a steal at just £5 plus £2.80 p&p. Flicking through its 100 pages packed with photos of glorious Formula 1 cars from the 1990 season made me think – how important is the 'look' of a F1 car?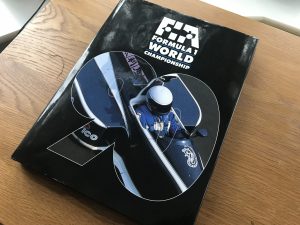 For many people, the 1990 season was the pinnacle of Formula 1 car design.
It was an age of unashamed excess. Teams were plentiful. Sponsors were numerous. The whole spectacle was full on. You either went big or you went home. (A lot of teams in those days went big, ran out of money and then went home).
The colours were bolder, the characters bigger, the cars more savage, wider and the cars, tracks and even the sponsors were more dangerous.
And at the very centre were these beautiful machines that seemed to strike a perfect balance between awesome brute force and sheer elegance.
Teams' understanding of aerodynamics was at a level that still allowed for a car's appearance to be taken into consideration at the design stage.
Their shapes and lines were clean and flowed into one another as a result of the world's best car designers poring over every square inch for hours on end.
And because of their reliance on aerodynamic performance being significantly less than it is today, an Adrian Newey or a John Barnard was less likely to have his vision compromised by data from a computer simulation or a wind tunnel suggesting that marginal gains could be made by the addition of a carbon fibre device here or a serrated edge (or ten) there, often at the expense of the car's appearance.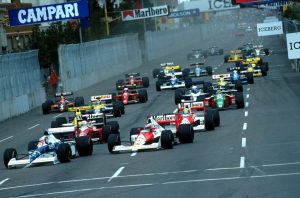 They were considered, they were harmonious and they were beautiful. They were both feminine and masculine, and they make the aerodynamically perfect (or at least that's the hope – see Williams FW41) Formula 1 cars of today look like they were designed by Homer Simpson and put together from old washing machine parts.
Were they as quick as the Formula 1 cars of today? Pole position for the 1990 Monaco Grand Prix was eleven seconds slower than the same Grand Prix in 2018.
But does it affect their aesthetic appeal? Absolutely not.
When I was as a kid, I could fall in love with a Formula 1 car at first sight. The Williams FW14 for example was the most glorious thing I'd ever seem in my life. I still remember where I was and what I was doing the first time I saw it. I wanted to touch it, sit in it and I couldn't wait to see it on track.
Cars are a large part of Formula 1's appeal. They're what we see when we watch a race. They're on the posters, online and in magazines and newspapers. Kids play with toy racing cars, not toy racing car drivers.
Dior wouldn't dream of replacing Johnny Depp with Rocky Dennis for their latest aftershave advert, and Formula 1 should follow suit.
If Liberty and F1 took into consideration how a handsome racing car makes people feel, and the regulations reflected this aspiration, inspiration, admiration and desire, then the whole show is an easier sell.