The European Grand Prix at Jerez, Spain was the finale of the 1997 Formula 1 World Championship, and the race that would decide the 1997 drivers title. It would prove to be one of the most controversial races of the time.
Two drivers were in contention to win the championship after a hard-fought season that swung one way and then the other: Williams driver and 1996 runner-up Jacques Villeneuve and Ferrari's Michael Schumacher seeking his first World Championship with the Scuderia.
Villeneuve arrived in Spain on the back of a disqualification in the Japanese Grand Prix for ignoring yellow flags, which meant that Schumacher led the championship by a single point going into the Grand Prix. This would prove crucial to the events that were about to unfold.
Prior to the Grand Prix, aware of Schumacher's history of unsportsmanlike behaviour and win-at-any-cost attitude, most notably in taking out Williams' own Damon Hill at Adelaide in 1994 to win that year's championship (for which astonishingly he received no punishment!), the Williams team, and Jacques himself were keen to remind the world at any and every opportunity that Schumacher had form.
This acted as a timely reminder to the FIA, a attempt to embarrass the dastardly German into behaving himself, and to give themselves a safety net if he didn't.
Tactically, Ferrari began the weekend as they were to finish it: Eddie Irvine, team-mate to Schumacher, deliberately and blatantly blocked Villeneuve time and again in an effort to unsettle the Canadian. Their aim was clearly to win by hook or by crook.
Come qualifying, astonishingly, the three fastest drivers: Villeneuve, Schumacher and Heinz-Harald Frentzen in the second Williams, for the first time in Formula 1 history, lapped the Jerez circuit in exactly the same time – 1.21.072.
And so they lined up on Sunday in order of the time of day each of the laps were completed: Villeneuve on pole, Schumacher alongside him and Frentzen in third.
Schumacher made the better start and led Frentzen into turn one with the tardy starting Villeneuve a close third.
The two Williams drivers were now in the wrong order, and so, after harrying Schumacher for eight laps, Frentzen was told by the team to let Villeneuve by allowing him to close on Schumacher.
The first round of pitstops came and went, and the two remained in formation – Schumacher leading Villeneuve by a delightfully catchable margin.
Annoyingly for Jacques and Williams, Ferrari supplied other teams with engines and they were under strict instruction to allow Schumacher through and to block Villeneuve when being lapped (it was more unusual for this kind of relationship to exist in 1997 than it is today).
On lap 43 Schumacher made his second pitstop, Villeneuve doing likewise a lap later. The gap was now around a second.
Jacques, on slightly fresher tyres, and having spent the entire race behind his rival, watching which lines Michael was taking round corners, where he was quick and where he was not so quick, pounced on lap 48 at the Dry Sack hairpin – a part of the circuit where he knew he had an advantage.
Darting right at the last minute in order to catch Schumacher off guard, Jacques threw a move up the inside. He'd later admit to being initially surprised that Schumacher hadn't crashed into him, and then THUD! The predictable collision happened.
You can see from Schumacher's onboard camera that, caught unawares that the Williams is now alongside him, his primary instinct is to steer away from Villeneuve in self-preservation.
Then it sinks in – this is the championship right here, and with the morally questionable decision making we'd come to expect from the German, his next thought is to take Villeneuve out sealing the championship by default, and hope the might of Ferrari are able to nobble the FIA later to make it stick.
"That didn't work Michael. You hit the wrong part of him, my friend" said F1 commentator Martin Brundle, as, unlike 1994 where Hill's car was irreparably damaged, the Ferrari bounced off the Williams FW19 into the gravel trap and retirement.
Schumacher was forced to climb from his stricken car and watch from the scene of his crime as Villeneuve sailed by time and time again, perhaps hoping that he'd inflicted some collateral damage that wasn't immediately obvious that would cause the Williams' ultimate demise and he might still pick up his third World Championship.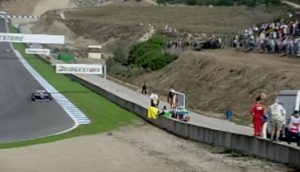 Perhaps not, but his body language was part absolute defiance and part scolded child, which must have been satisfying for Villeneuve to see as he passed.
The hit was sufficiently hard that Jacques felt the need to nurse the car to the finish to ensure he scored the two points he required to secure Williams' second World Drivers Championship in a row.
This allowed the McLaren duo of Hakkinen and Coulthard to catch Villeneuve, and with little resistance from the Canadian, to pass, en-route to a McLaren 1-2.
In a bizarre climax to the Grand Prix, Coulthard, unaware of whether he was depriving his former team of the World Championship by finishing ahead of Jacques, slowed down to allow Villeneuve to pass if he wished. Villeneuve knew a fifth place finish was all he needed, and so too slowed down. This allowed Gerhard Berger, in his final ever F1 race to close on them both, Villeneuve later commenting that had he known the Benetton was there, he'd have let him by too so that the Austrian could have ended his Grand Prix career on the podium.
Post race, officials declared Schumacher's attempt to derail Jacques' race as a 'racing accident', but the FIA saw it differently and hauled the German in front of a disciplinary hearing, in which he was disqualified from the 1997 F1 World Championship altogether. However, Schumacher would be able to keep his race wins, and neither he nor the team would be penalised financially, and so it could be argued that the FIA din't go far enough punitively.
Had Schumacher succeeded in taking Villeneuve out, would the FIA have been brave enough to disqualify him? History suggests not, with outrageous behaviour deciding championships in the then not-too distant past having been excused.
Maybe, the thought of a fourth Formula 1 World championship in nine years being decided by some sort of skulduggery (after 89, 90 and 94) would have compelled the FIA to act.
Either way, Jacques and Williams were World Champions, and they'd won it fair and square.