If you're a fan of Formula 1 and want your voice to be heard, there's an online platform for you to be able to do just that: F1 Fan Voice.
Launched in 2018 by Formula 1 itself, F1 Fan Voice gives like-minded (or sometimes not-so-likeminded) Formula 1 fans the opportunity to interact with one another and to feedback on hot F1 topics directly to the people in charge.
There are polls and surveys for the bods at F1 to get the general consensus among F1 fans, and there's also a blog section and a forum where Formula 1 fans discuss anything from technical issues to driver qualities or the issues affecting the sport itself.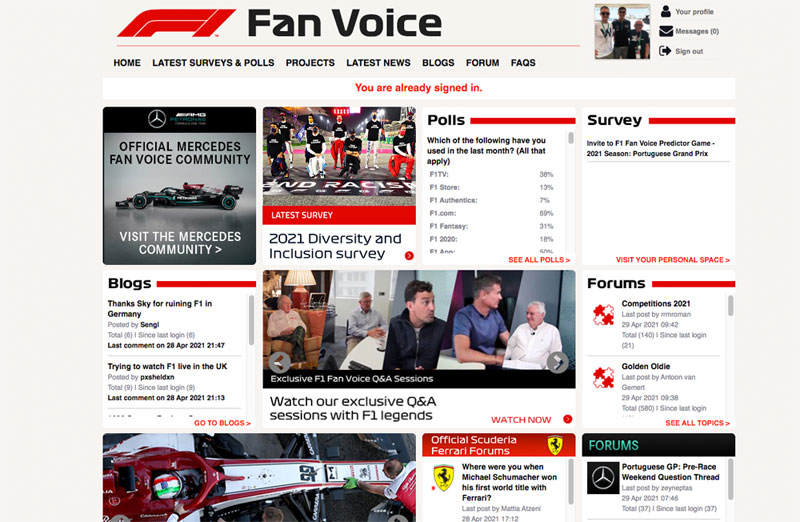 I've been using it for a couple of years and for me the main attraction is the user generated content – some users devote an awful lot of time to creating lengthy, in-depth blogs, whereas others stick to commenting on some of the more light-hearted posts in the forum.
There's a good sense of community and there are a number of regular users who do a great job of self policing the posts, so if someone posts abuse or spam or 'fake news' they're quickly called out on it and F1 Fan Voice is a relatively harmonious place as a result.
More recently Ferrari and Mercedes have involved themselves with F1 Fan Voice, which is both great – it's nice to have a direct link to the teams, but also has its negatives – obviously they want posts that they're involved in to reflect well on them and avoid controversy at all costs, so the stuff they post is usually terribly bland and has been known to get in the way of the more meaty discourse.
How many of the comments actually reach Liberty/Formula 1 is unclear – but I get the feeling that is not its primary aim.
Firstly, F1 Fan Voice gives Formula 1 a vast pool of willing F1 fans to dip in to when it has a consultation exercise/needs data to take to a sponsor, partner or backer – and it's cheaper, quicker and easier than arranging focus groups.
The community interaction (forum and blogs) ensures the 'stickiness' of the site, ensuring those fans come back again and again, reinforced by the site's gamification (fans collect points and can win prizes with the quality and frequency of their and interactions).
'Oh, and while you're here, would you mind completing this quick survey?'
Secondly, F1 fans have long complained that their voice isn't heard and that Formula 1 is out of touch with its fans, often introducing 'improvements' that don't actually improve anything for fans.
F1 Fan Voice gives Formula 1 a rebuttal to that – 'we are listening – just look at our fan engagement platform: F1 Fan Voice TM if you need proof of that' and dissenting voices are then expected to get back in their box and enjoy the status quo like good little cash cows.
So my advice as a long-time user of F1 Fan Voice to those thinking of signing up: If you want to join a community of largely knowledgeable, passionate, on the whole friendly F1 fans for decent written content and good interaction then F1 Fan Voice is the place for you.
If you want Formula 1 change as a result of you giving your opinion and will feel frustrated at anything less, or if you feel easily exploited, then you might be best looking elsewhere.
Check out F1 Fan Voice at www.f1fanvoice.com