Never have I experienced a Grand Prix where the overwhelming sense of achievement and accomplishment of a team been so detached from the performance of its two cars or the outcome of the race.
For the 2019 British Grand Prix for Williams was about celebrating what the team and Sir Frank Williams, founder of Williams Grand Prix Engineering back in 1977 (and Frank Williams Racing Cars prior to that) have achieved in their 50 years in the sport.
The 18 months leading up to this weekend could barely have been more challenging for Williams, with constant key personnel changes prompted by (or the cause of – depending on your viewpoint) the two worst performing cars in the team's entire history.
Perhaps because of this, expectation of Williams' two drivers George Russell and Robert Kubica was so low (guaranteed to be the slowest two cars on track at any point during the course of the weekend) that the actual competition became irrelevant, and we could all simply reflect on Williams' journey over the past half century.
In the build up to British Grand Prix weekend there was also an enhanced appreciation of the things that contribute to a Grand Prix team's long term success that you can't measure using a stopwatch.
Over at Haas, title sponsor Rich Energy had thrown a wobbler threatening to derail their whole campaign when CEO William Storey announcing via Twitter that he was terminating their sponsorship agreement as a result of poor on-track performance.
Then when it appeared common-sense might prevail, again took to Twitter to undermine the 'treacherous' minor shareholders seeking to build bridges with Haas before continuing with a bizarre sequence of (probably libellous) insults directed at the US outfit that anyone following Rich Energy's court battle with Whyte Bikes over the use of their logo will have become familiar.
With this as a backdrop, and with Williams having once been rivals with Haas for Rich Energy's affections before losing out, it was with some degree of schadenfreude that on arriving at Silverstone Williams chose to announce they and ROKiT had agreed an extension to their current title sponsorship deal by an additional two years.
This gives the team a stability that I'm sure Haas would trade in a large chunk of their outright pace for right now, and sees the team with a steady income stream going into the new Formula in 2021.
That Williams narrowly dodged the Rich Energy bullet only heightens the sense of appreciation for that position.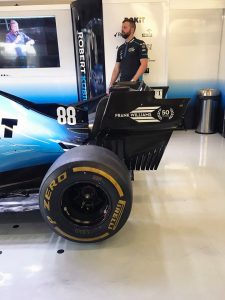 Then there were the two anniversaries – Sir Frank Williams' 50 years in Formula 1 as team owner (first with Frank Williams Racing Cars and then Williams Grand Prix Engineering/Williams Racing), and 40 years to the day since Williams' first win in Formula 1 at Silverstone in the 1979 British Grand Prix in the hands of Clay Regazzoni.
And since it would hardly be fitting to celebrate without the main man, it was only right that Sir Frank was in attendance.
When, on Friday, Williams' legendary founder was taken around the Silverstone track on a couple of 'hot laps' by World Champion Lewis Hamilton it was quite easily one of the most charming and heartwarming things I've seen in a long time.
It was obvious his enthusiasm and passion has been dimmed not one iota by his 50 years in the sport, or by his team's current lack of form.
In the grandstands and at trackside there was and has always been a lot of support for Williams in Britain and this year was no different with the noise around the team being overwhelmingly positive.
The fondness the Great British race-going public has always held for Williams was again evident here as there was as much Williams teamwear being sported by fans as pretty much anyone outside of Mercedes, Ferrari and Red Bull.
Among non-Williams supporters there was a lot of warmth and goodwill too.
Speaking to fans of other teams there was much of talk of 'hoping Williams get back to their best…' and of Williams being people's 'second team'.
So with so much to celebrate and this momentous weekend being the perfect time to do it – dare I say without any distractions from what's going on on-track?! – and Williams' reinforced financial footing inspiring lots of hope for the future, it was a fantastic British Grand Prix for Williams Racing.
Oh, and 14th and 16th for Russell and Kubica in the race in case you were wondering.
Not that it really matters.