George Russell has announced that he'll be sporting a special lid for this weekend's Chinese Grand Prix, the 1000th race of the Formula 1 World Championship.
The one-off, half and half design pays tribute to ex-Williams F1 driver Juan Pablo Montoya, a hero of Russell and his elder brother Benjy who was inspired enough by the Colombian to copy the design for his helmet whilst in karting.
And it's this connection that's driven Russell to feature Montoya's design on the right half of his helmet for this weekend's Grand Prix.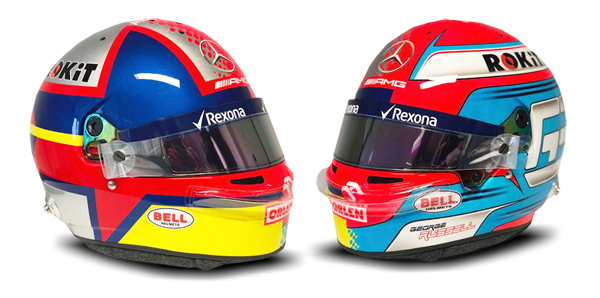 Juan Pablo Montoya drove for Williams for four seasons between 2001 and 2004, racking up eleven wins coming within a whisker of the 2003 world championship in the BMW-powered Williams FW25 before jumping ship to McLaren in 2005.
What George Russell's helmet emphasises is the difference in design principles of helmets of the past and those of today.
When I was a lad I could get a piece of paper and a pack of felt-tip pens and draw you at least twenty or so contemporary helmets.
The lids of Mansell, Senna, Prost, Piquet and drivers before them – Stewart, Cevert, Hunt, and Hill were all simple, clean and distinctive. They were recognisable and they were memorable.
If I sat an eight year old down today I doubt he'd be able to draw me more than a couple of helmets from the current crop of F1 drivers.
Not only are the designs so incredibly fussy that there's very little about them that's memorable, but they're constantly changing and are largely hidden behind the furniture of a modern F1 car.
When Ayrton Senna appeared in the mirrors of a driver in days gone by, very little time would be wasted in determining who it was before Senna would be past and up the road.
The helmet was part of a driver's brand, and in the case of Senna, it would literally become his brand, and that of the Ayrton Senna Foundation.
It was a way a driver could express himself in a sea of other people's colours and designs, and although F1 has attempted to create branding opportunities in other areas such as driver numbers, it hasn't quite matched the potency of a strong helmet design.
It's a shame that has all but gone.