James Hunt has become one of the sport's most iconic characters.
He embodies a representation of a bygone era of Formula 1 where drivers were daredevils who liked a smoke and a drink, a good punch up, the company of beautiful women, and after an afternoon's toil at the wheel, treading a fine line between life and death, would party until the sun came up in some of the world's most glamorous and exclusive nightspots.
His portrayal in the film 'Rush' romanticised the notion of the playboy driver to such an extent that his on-track achievements are largely overlooked, but in becoming World Champion in 1976 he proved he had the talent to match his larger than life persona.
Having realised his ambition to become F1 champion, he was never quite able to match his success of 1976, and his career sadly petered out before retiring mid-way through the 1979 season following a string of retirements in an uncompetitive Wolf, having allegedly turned down a deal to drive for Ferrari.
Such was Hunt's appeal, that offers to tempt him out of retirement continued to materialise.
In 1980 Hunt agreed to stand in for the injured Alain Prost at McLaren for a one-off drive at the USGP west in a deal that would earn the Englishman a cool £1m.
But it was not to be after he broke his leg whilst skiing (it's been said he was doing 'stunts' after a liquid lunch), and Stephen South took the drive instead, failing to qualify.
Bernie Ecclestone too tried to coax him out of retirement with an offer of £2.5million to drive for his Brabham outfit in 1982, but Hunt declined saying he didn't need the money and was quite happy with his life thank you very much.
In 1985 it's rumoured that talks were held between Frank Williams and James Hunt about a return to Formula 1, but whether or not this is conjecture, nothing materialised and the door to an F1 comeback for the then 39 James Hunt seemed to be well and truly closed.
However, by 1989, Hunt's flamboyant lifestyle had taken it's toll financially and it's rumoured that he was seriously considering a return to Formula 1.
He and Williams were in contact and they arranged for a test in that year's Williams FW12C to take place at Paul Ricard in December.
James duly turned up, cigarette in hand, and wearing his old Wolf overalls from his last F1 outing in the 1970s.
Despite his 42 years, and a lap time five seconds off the pace Hunt insisted he was physically fit enough to cope with the demands of Formula 1, and he even contacted Marlboro (the tobacco company who'd agreed to fund his one-off McLaren drive in 1980 before it went 'South' – LITERALLY! #lolz) to see if they were interested in supporting his return.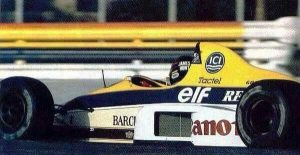 They weren't, and the test came to nought.
Sadly it was the last time James Hunt would drive a Formula 1 car, and he died of a heart attack four years later at the age of 45.
Was he serious about making a comeback? I guess we'll never know. One man who thinks it was never really on the cards was Hunt's biographer Maurice Hamilton who insists that the test was just for fun.
And as we're all too aware, comebacks after lengthy absences don't always work out for the best! #kubica