Formula 1 races have been accused of being rather turgid of late, but the Austrian Grand Prix well and truly bucked that trend, with an incident filled 71 laps and ranking among the very best Grand Prix of recent times.
It was won by Holland's Max Verstappen, who fought back from a tardy start demoting him from the front row of the grid to seventh, to sensationally catch and pass Ferrari's Charles Leclerc a couple of laps from home to take his first win of the season, and the first by a non-Mercedes driver.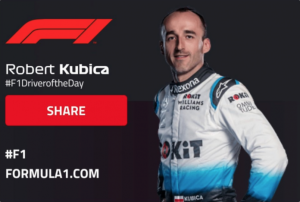 It was then a slight surprise to see, that after such drama at the front of the field, Williams driver Robert Kubica was apparently voted driver of the day ahead of winner Verstappen and his rival for the win Leclerc.
It was immediately suspected that there was some mischief in the voting – either by way of co-ordinated voting from Poland by Kubica fans wishing to show support for their hero, or in the same way that the Natural Environment Research Council's polar research vessel became Boaty McBoatface, as a result of some social media high jinx.
However, some 72 hours after voting closed, it was revealed that there was a technical fault in the voting system, and users of the #F1 website who'd attempted to vote for Max Verstappen as their #DOTD had been thanked for voting for Kubica once their vote was registered.
Quite how a sport that relies so heavily on technical innovation can get something as relatively simple as an online vote wrong is anyone's guess.
It doesn't reflect very well on Formula 1, and it must have felt like another smack in the kisser for Kubica after a difficult race where he finished 20th and last, again bemoaning the performance of his Williams FW42.
Williams have insisted that there are no fundamental issues with this year's Williams though and that aerodynamic upgrades in the next few races should bring significant performance gains to the car, so he and team-mate George Russell might shortly have something to smile about.