It may not have enjoyed the longevity of a Monaco or a Monza, but few Grand Prix Circuits can match the sheer beauty of the street circuit on the Monjuic mountainside towering over the city of Barcelona, Spain.
Think a cross between Monaco and Spa-Francorchamps and you're not far off.
Sir Frank Williams described Montjuïc as "a great circuit for drivers requiring much courage…definitely for men and not for boys."
Set in wooded parkland, and the scene of motor races as far back as 1933, the Circuit de Monjuic's fast flowing corners and its natural changes in elevation made it a favourite of many of the drivers and yet it ultimately posed a challenge of a different kind: one that led to its demise as a Grand Prix circuit.
Montjuic's 1930s motor racing programme was abruptly halted as Spain descended into Civil War, which was compounded by the outbreak of WWII a year after the Spanish ceasefire, and so it was only as Europe was in recovery that the roar of a racing car could once again be heard around Montjuic.
The 1950s brought internationally recognised motor racing back to the mountain, notably the Montjuic Cup for sportscars, and the Nuvolari Trophy: a rally named after the Grand Prix great Tazio Nuvolari, winner of the 1936 Gran Premio Penya Rhin around Montjuic.
By now an established motor racing venue, GT cars and Formula 3 were next to race at Montjuic, which brought the dream of Grand Prix racing in Barcelona a step closer.
After a successful European Formula 2 race in 1968 with a field boasting no fewer than nine Grand Prix winners including Jim Clark, Graham Hill and Jackie Stewart amongst others, it was decided that Montjuic would alternate with Jarama – then venue of the Spanish Grand Prix – as host venue of Spain's showpiece motor racing event, with Montjuic's Grand Prix debut planned for the spring of 1969.
The inaugural race at Montjuic would give us a frightening insight into what was to come when Graham Hill in his Lotus-Ford crashed heavily whilst cresting the Stadium Jump, caused by the collapse of his newly introduced, high mounted aerofoil on the rear of his car.
Hill was uninjured, but team-mate Jochen Rindt arrived at the scene of the stricken Lotus, lost control and ploughed into the wreck, and although not seriously injured, Rindt, bloody-faced, needed to be helped from his mangled car.
Jackie Stewart would prove to be the man to beat at Montjuic, taking wins in both the 1969 and 1971 races. Emerson Fittipaldi picked up the baton in 1973 before its next (and last) Grand Prix in 1975 that would go down in infamy.
1975 Spanish Grand Prix
Ahead of practice, the drivers protested at the shoddy state of the guardrail around the circuit, which seemed hastily and casually constructed and not at all safe.
With this protest appearing to fall on deaf ears a strike was called, with drivers – as part of the newly formed Grand Prix Drivers Association (GPDA) – refusing to race unless the poorly erected armco, which wasn't correctly bolted together in places was fixed.
The prospect of having to cancel the Grand Prix prompted the organisers to bring in a team of mechanics who worked through the night in order to secure the five or so miles of Armco.
On race morning, Jackie Stewart's team owner Ken Tyrrell went around the circuit with a wrench checking that the job had been done properly.
With everyone broadly satisfied with the result and the organisers threatening legal action should there be a boycott the race went ahead somewhat under duress.
It did so without 1973 winner Emerson Fittipaldi who had gone home by way of protest. He was joined as a non-starter by his brother Wilson and Williams' (before they were Williams) driver Arturo Merzario.
A number of big crashes early in the race set the tone for what was to be a tragic morning.
By lap 25, exactly half of the 22 starters had retired when leader Rolf Stommelen ironically driving an Embassy Hill – team owner Graham Hill suffering an almost identical accident six years previous – suffered rear wing collapse at Stadium Jump and his car ploughed into the recently improved, but still fundamentally weak barriers on one side of the track and then the other, which, in its weakened state pitched his car over and into the spectator area at the 200m board before the Miramar hairpin.
Stommelen's car knocked over a lamppost and brought down a wire mesh fence as it came to a halt, destroying itself in the process.
Tragically, four people: a fire marshal, a photographer and two spectators were killed in the accident, and the race was red-flagged.
Stommelen himself suffered a broken wrist, broken leg, and two cracked ribs, but walked away with his life.
Following the disastrous 1975 race, in an age of inherently unsafe Grand Prix racing, Monjuic was deemed too unsafe and never again would it appear on a Formula 1 calendar.
Montjuic today
The circuit remains, to this day, true to its original form in all its majesty.
Made up of public roads, you can drive up the mountain and follow in the wheel tracks of Stewart, Fittipaldi et al, or do what we did and take the open top bus tour of Barcelona and hop off nearby.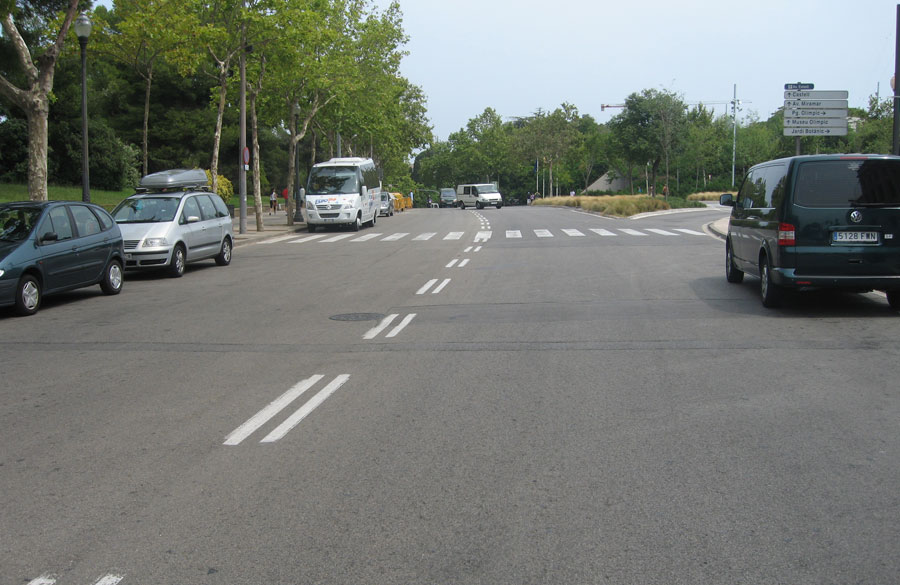 Beginning at the start line in the shadow of the Estadi Lluis Companys, scene of the 1992 Olympic Games, built adjacent to the site of the Circuit de Montjuic pits (no longer there) you head up to the Stadium Jump – scene of the terrible accidents that befell Rolf Stommelen and Graham Hill and Jochen Rindt before him – where the hill crests before descending towards turn 1: a left-handed hairpin.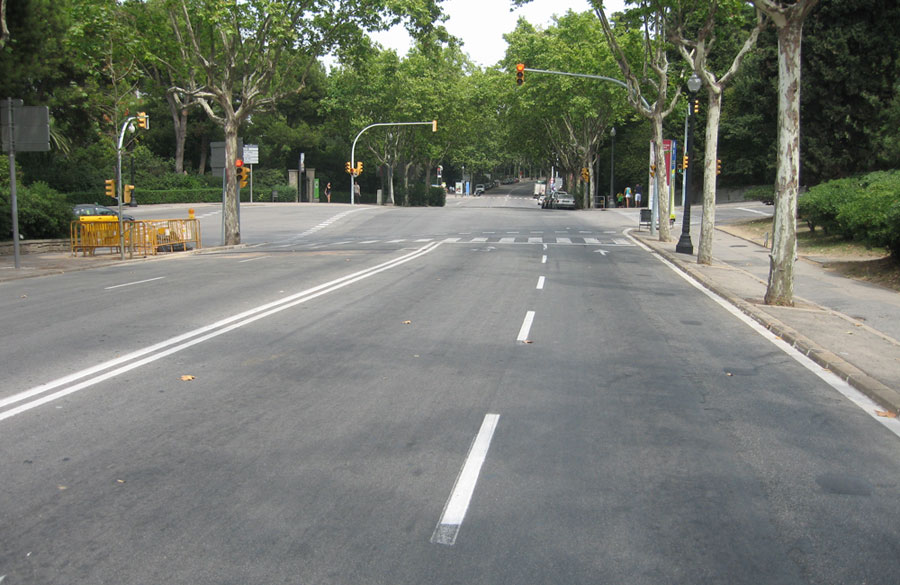 Heading downhill, drivers had to navigate a couple of Montjuic's signature sweeping bends before arriving at another hairpin, with a spectacular view of the city in the distance. The combination of these two: hairpins and long sweeping bends is what made Monjuic such a difficult challenge for drivers and mechanics setting up the car alike.
Continuing down the tree lined avenues we headed before we get to the first built up area. And by 'built up', I mean more Alhambra and less Newcastle City Centre 'built-up'.
You pass between ornate, terracotta tiled museums and theatres before hitting the expansive Avenue Francesc Ferrer i Guàrdia, the lowest point on the circuit, halfway along which you get an incredible glimpse of the 'Magic Fountain' and behind it, in the distance, the National Museum of Catalunya.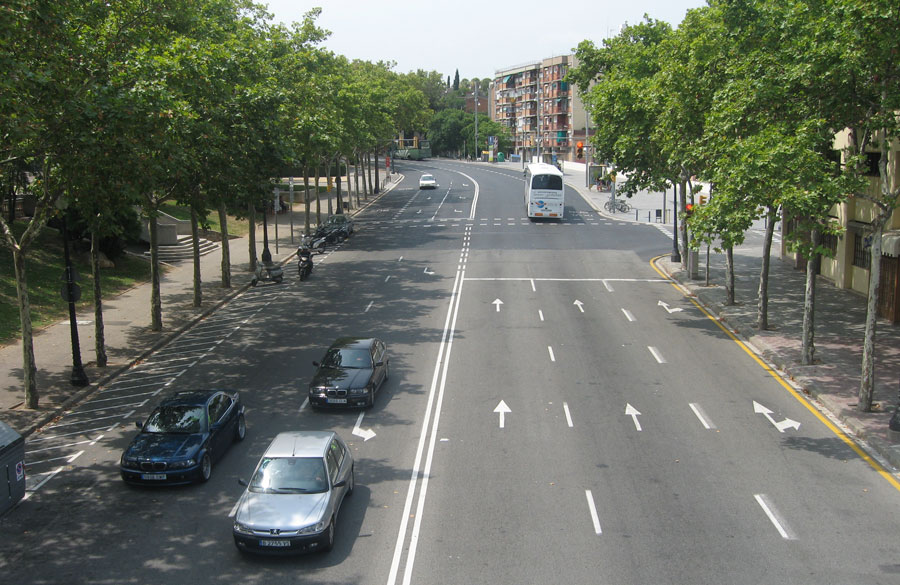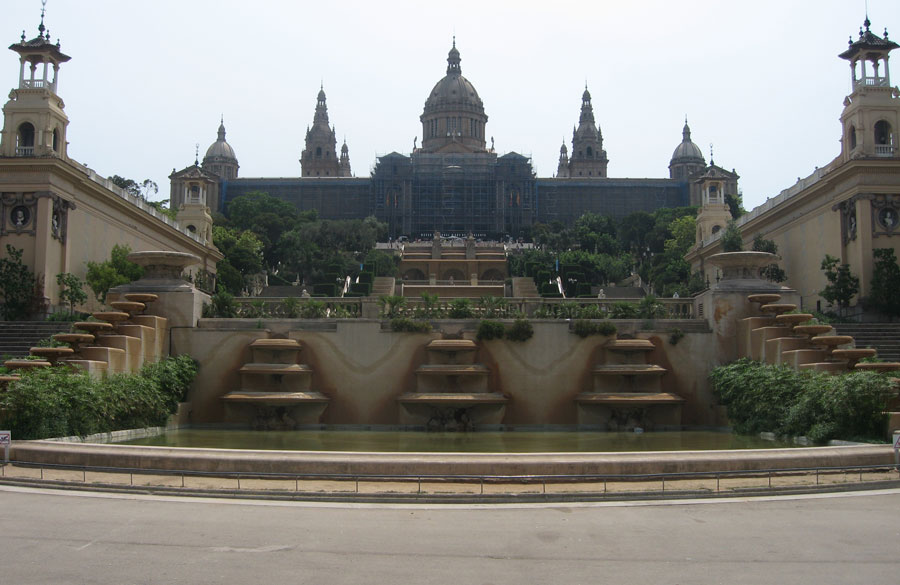 Powering up the hill, sweeping first left and then right – all the while accompanied by yet more epic views of Barcelona in the distance.
Now, if you're with your wife and mother-in-law as I was (what was I thinking??), it's at this point they start to grumble. It's a bit of a shank back up to the start/finish line, especially in the baking heat that Barcelona enjoys in the summertime. So I crack on alone while they sit and have a refreshing ice-cream apiece.
No ice-cream necessary for this intrepid explorer as I round the outside of the Plaça de Sant Jordi or 'a roundabout' as I'd call it, and up the sprawling left then right-handed climb to the startline to complete a lap of the Monjuic Circuit.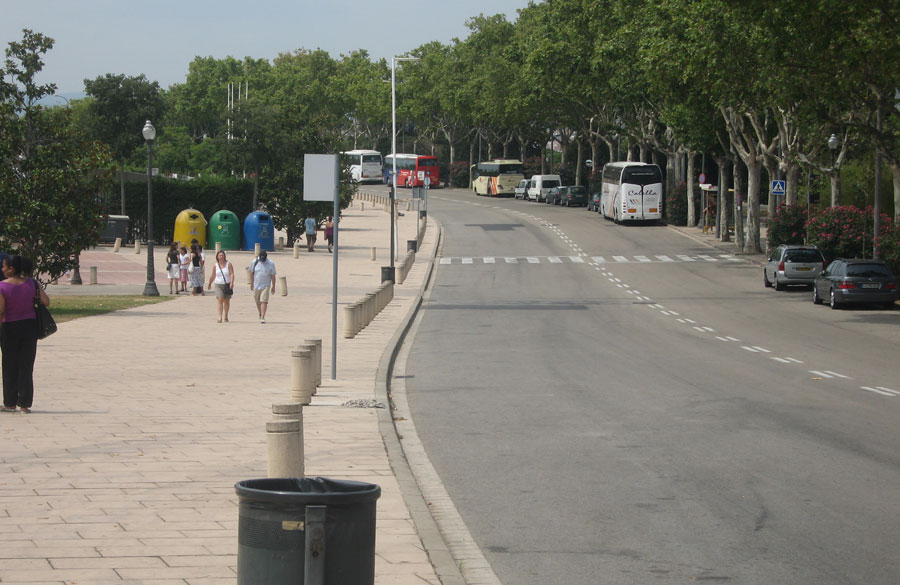 Despite the track remaining as was, you could easily wander around this beautiful park for days and never know of its high octane past. Very little exists that celebrates its Grand Prix history, other than a large brass relief at almost the exact spot the Stommelen's car left the circuit.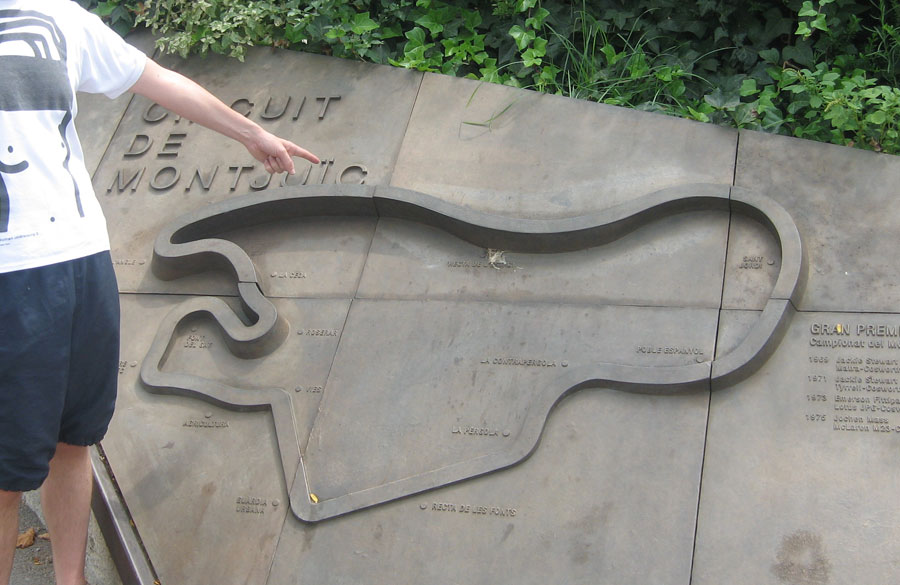 However, because of its parklands location, Montjuic will never be left to go to ruin as many old Grand Prix circuits have. It's also unlikely ever to be developed and so it will forever remain as a monument to its own place in F1 history.