Recently, Formula 1 World champion Lewis Hamilton and nine-time  motorcycle World Champion Valentino Rossi exchanged machinery as part of promotional event at the Circuit Riccardo Tormo in Valencia organised by mutual sponsor Monster Energy Drinks (other energy drinks are available).
Rossi took to the track to do a number of laps in a Mercedes AMG F1 W08, while Hamilton rode a Yamaha YZR-M1 similar to the one 'The Doctor' used in the 2019 MOTOGP season. Lap-times were not made public, so we've no idea how far off the pace each of them was (although it's fair to assume it would be quite far!)
Whilst this was the most recent example of a motorcycle racer jumping into an F1 car (it's much less common the other way round – perhaps that says something about the relative difficulty of the categories, and more still about the bravery/stupidity it takes to race a motorbike!) it's far from the first.
Rossi himself enjoyed a Ferrari test in 2006, and so competitive were his times – around half a second off those of F1 great Michael Schumacher – that many onlookers suggested that he could be drafted in by Ferrari to replace the outgoing German for the 2007 World Championship.
Another Ferrari test followed in 2008, but neither resulted in a full-time F1 drive for the Italian, as he opted to remain in MOTOGP.
Ferrari were also instrumental in without doubt the greatest Motorcycle/F1 crossover, when multiple motorcycle World Champion John Surtees left bike racing to pursue a career racing cars, and after a couple of seasons at Lotus and Lola to learn the ropes he was drafted in by the Scuderia for the 1963 season, incredibly taking the World Drivers' Title the following year.
Another motorcycle champion to have tried his hand at Formula 1 was perhaps the greatest of them all.
Giacomo Agostini & Williams
Italian Giacomo Agostini won fifteen motorcycle World Championships in the 1960s and 70s, including 10 IOMTT wins making him the most 'winningest' bike rider of all time.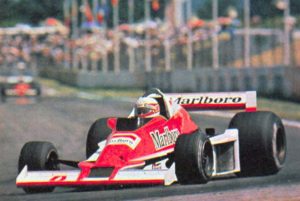 In 1979, perhaps inspired by John Surtees and Mike Hailwood (another motorbike world champion who took part in F1 – and after whom I'm named incidentally!) before him, Ago left the two-wheeled world behind him, deciding to give four-wheeled racing a try.
After a season in European Formula 2 he used his backing from Marlboro to buy a Williams FW06 and fund entry to the 1979 (non-Grand Prix) British Formula 1 Championship.
Here he spent two seasons, finishing 8th and 5th in the title-race, picking up a good few podiums along the way, against a strong-ish field that included a number of Grand Prix drivers.
At the end of two tough years with an ageing FW06, Agostini, now 38, concluded that he too was too old to be embarking on another racing career and promptly retired.