Ever since our first Formula 1 race at Silverstone in 1987, my Dad and I have tried to attend at least one Grand Prix a season.
My Dad, now 71, used to race motorbikes back in the 1970s until his first baby (me!) came along and robbed him of the money he needed to go racing, from which time he's been an avid armchair supporter of Grand Prix, both two wheeled and four.
Two daughters arrived not long after I did leaving him with even less disposable income with which to travel to races, save the odd club meeting in the North of England and Scotland every now and again.
Back in the day he was a storeman for the local district council, and the expense of going to a Grand Prix (two tickets, plus travel and accommodation) was just too hard to justify when the same money could be spent on a week at Butlins or Scarborough for the five of us.
However, around the time of my eighth birthday came a revelation: It was decided that we'd foregone enough foreign holidays to be able to stretch to an adult and a child ticket for the 1987 British Grand Prix. The excitement was almost too much for my eight-year old brain to deal with. You see, I lived and breathed Williams.
My school books were covered in sketches of FW11Bs, I'd daydream I was a Grand Prix winner and joining me on the podium was runner-up Nigel Mansell and an un-named – and yet obviously dastardly – McLaren driver in third (Nige and I had teamed up to beat the enemy – always McLaren – in this particular race, and he'd generously let me win even though we all knew he really deserved it), and I'd never miss a second of the, quite honestly fairly lame, tv coverage of F1 at the time.
The day came and off we set on the 300 or so mile drive from our home in Northumberland to Silverstone for our first ever Grand Prix experience.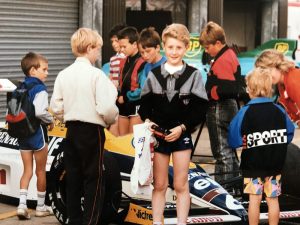 And what an experience it was. Nige won a cracking race, hauling in his team-mate with metres to spare after late tyre drama. We were hooked. We couldn't repeat it quickly enough. A year later, back we went to Silverstone.
This yearly pilgrimage continued until I was old enough to pay for myself. About 25 to be exact. (What? I had university tuition fees to pay for! And nights out don't grow on trees you know??)
When Dad had just one ticket to buy, we decided we could venture a little further afield and so we decided Monza would be our first European Grand Prix.
Our first Italian Grand Prix was as enthralling as our first British Grand Prix had been all those years before, and we vowed we'd make it an annual event, trying a different race each year.
Trips to Spa, Hungary, Barcelona, Hockenheim, Austria and Monaco followed until this year, our 40th Grand Prix together, we chose the French Grand Prix as our race of choice. Little did we know what was in store.
The 2019 French Grand Prix
There are no direct flights from Newcastle airport to Marseille (the closest airport to Paul Ricard), and so we booked train tickets to Edinburgh where we'd jump on an ever dodgy Ryanair flight direct to the South of France. Once there, we picked up a hire car from the airport and drove the 40 or so minutes to Le Castellet, slightly nervous about the traffic dramas of the year before.
We needn't have worried – the traffic was a dream, we arrived in good time and pitched our tent in the scrub around the circuit and got our heads down anticipating an early start for a full day of racing the next day (Saturday).
Prior to leaving I'd taken to Twitter to let the Williams team know we'd be there in our homemade tshirts and with our Williams Union Jack cheering them on every time they passed.
To my surprise someone from the team spotted my Tweet and sent me a direct message thanking us for our support and asking if they could give us a few goodies by way of appreciation. Wow I thought. That's good!
We arranged to meet up prior to FP3, where I thought we might be given a cap each, we'd wish them luck and we'd be on our way.
Not so.
To our shock and delight, the two Williams guys who met us – Adam and Jeremy – not only handed us a bag of goodies, but had a surprise – they had with them a couple of paddock passes and we were invited to spend FP3 IN THE WILLIAMS GARAGE!
OMG.
With our passes around our necks we accompanied them to the paddock where after a quick tour of the facilities we arrived right in the thick of the action, perched between the two cars, in such close proximity to Claire Williams that I could have tapped her on the shoulder and asked her the time.
FP3 got under way and amid a flurry of activity George and Robert came and went, completing timed laps and being wheeled back in, us having to be mindful of where we were standing so as not to get in the way of the action, such was the beauty of our viewing position.
We could feel the heat from the tyres, smell the exhaust and we rattled with the roar of the cars as they burst into life.
FP3 finished and we were accompanied over to the hospitality centre behind the garage where the two of us enjoyed a cool beer while we waited for our lunch (yes, we were asked to join the team for lunch!).
Still struggling to comprehend what we were experiencing, and making the most of a minute or two to ourselves to take selfies on the rooftop terrace of the Williams hospitality unit, one of our Williams friends reappeared and with him was George Russell who was brought over to meet us.
OMFG.
Despite the incredible time pressure he was no doubt under, George was happy to talk to us for a good few minutes, during which time we talked about F1, his season and his future. We grabbed the opportunity for a photo or two and an autograph and he was off to prepare for quali.
At this point my dad and I glanced at each other, wondering what could possibly be next!
Downstairs we went to begin lunch. A glass of crisp rose and a delicious starter (Arancini in case you're interested) in and Jeremy informed us that he'd asked the chef to delay our main course because the pitlane is open for a pit walk, Robert is there and he'd like us to meet him.
So off we went, through the garage, past the cars and out front where Robert was indeed standing in the pitlane, surrounded by well-wishers and supporters (he's a very popular guy!)
A quick few words with him and a photo later and we're whisked off up the pitlane to savour everything else that happens in the build up to F1 qualifying.
We're being passed by Ferraris on their way to and from scrutineering and brushing shoulders with F1 royalty like Jackie Stewart and Damon Hill as TV companies present their build ups either side of us.
We stroll back down to the Williams garage as the pitlane closes with half an hour to go before qualifying and we're invited to finish lunch in the hospitality unit while we watch qualifying on the big screen.
But Dad is a purist. He says that while he's at a Grand Prix he'd rather watch from trackside than on a TV despite Williams' incredibly kind offer to let us spend the rest of the day with them. And he's right.
So we thank everyone involved and reluctantly hand our passes back, leave the paddock and head for our seats in the grandstand, our heads still spinning with what's just happened.
It was an absolutely unforgettable experience, and an incredible insight into the workings of a top Grand Prix team.
Everyone at Williams was amazingly generous with their time and super accommodating of these two guys who'd rocked up in the middle of it all completely wide-eyed and in everyone's way.
From Adam and Jeremy, to the guy at the bar, the chefs, the mechanics, drivers and even George Russell's lovely family – they all took time out of their busy days to spend time with us, to make us feel welcome and part of the setup, and for that we're very grateful.
'It was like we were dignitaries' I overheard my dad saying on the phone to my Mum later that day.
It felt like we'd come a long way since 1987.
My photos of the day