On 25th of June 2019 it was announced that Williams F1's Chief Technical Officer Paddy Lowe's long protracted exit from the team was being made official with immediate effect. Seven days later it was announced that Pat Fry, McLaren's engineering director and the man credited with the design of this year's vastly improved McLaren MCL34 has been put on gardening leave ahead of his imminent departure from the team.
Is it a coincidence that a high profile position becomes vacant (Williams were unable to seek a replacement while Lowe was still under contract) and less than a week later a guy with the cv to fill it leaves his current role?
I mean, it could be just that – a quirk of timing. But it wouldn't be too big a stretch to put the two together with the result being a solution to Williams most pressing problem.
Who is Pat Fry?
Pat Fry began his Formula 1 career in Benetton's R&D department, before being made everyone's favourite pundit Martin Brundle' race engineer in 1992.
He moved to McLaren in 1993 where he became both Mika Hakkinen & David Coulthard's race engineer before moving to a tactical role in 2001 and then becoming Chief Engineer of Race Development a year later.
During this time he was responsible for the cars with which McLaren finished championship runners up: the MP4-22 and MP4-22 (later stripped of all its points as a result of Spygate).
Fry left McLaren to join Ferrari as assistant technical director in 2010. He was also charged with race track engineering (a role that involved determining race strategy) and subsequently became 'director of chassis', one of three roles that when combined amounted to the role of Technical Director, prior to leaving the team in 2014.
In 2016 he took a engineering consultancy role with the Manor team before the team folded in 2017.
He returned to McLaren as Engineering Director in 2018 to oversee the development of their 2019 car. It is said that the role was always going to be a temporary one while the team awaited the arrival of engineer James Key who was still under contract with Toro Rosso who were understandably reluctant to let their man jump ship to one of their rivals.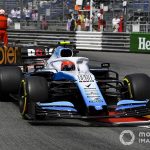 A switch from McLaren to Williams isn't too great a leap – both giants of the sport who have found themselves closer to the back of the grid of late than they'd hope.
Pat Fry has a wealth of experience in top teams, and if nothing else he'd arrive at Williams (if indeed he does arrive at Williams) having been part of a mini-resurgence at McLaren with this year's results being a vast improvement on what they've been able to achieve in the past five or so years.