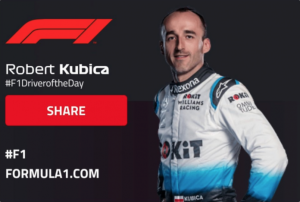 Building on an interest in cars from an early age, the racing career of Robert Kubica began at the age of ten when he entered the Polish karting championship.
Following enormous success domestically, winning six titles in three years, he made the switch to the Italian championship which was significantly more competitive and challenging than karting in his homeland could offer him.
In 1998 Kubica became the first non-Italian to win the International Italian Junior Karting Championship.
Using this as a springboard to launch an assault on other series' Kubica would then compete in the German, European and World Kart Championships, win the Junior Monaco Kart Cup twice, the Margutti Trophy and Elf Masters races as well as successfully defending his Italian crown.
In 2001 Kubica progressed to Formula Renault where he was adopted into the Renault Driver Development Programme.
In his maiden season he managed a pole position, a couple of podiums and a fastest lap before a second season which would yield multiple wins and a second place in the Italian Formula Renault Championship.
For 2003, Kubica moved from Formula Renault to Euro F3, winning on his debut en route to 12th place in a championship won by future IndyCar driver Ryan Briscoe.
A second year in the Formula 3 Euro Series followed in a 2004 season that peaked with a second place in the Macau GP ahead of Lewis Hamilton who finished in 14th after colliding with Nico Rosberg (not for the last time!)
Formula Renault 3.5 beckoned for 2005 where a championship win earned Kubica the opportunity to test with the Renault F1 team.
BMW Sauber was Kubica's next port of call. What started out as a reserve driver role became a full time drive, when, following some impressive Friday outings for the team, regular driver Jacques Villeneuve crashed heavily during the German Grand Prix ruling him out of the following round in Hungary.
Kubica stepped up, finishing the race ahead of his team-mate Nick Heidfled in seventh before being disqualified for having an underweight car.
But BMW-Sauber team principal Mario Theissen had seen enough. Shortly after the race it was announced that Villeneuve would be leaving the team and Kubica would be his replacement for the remainder of the season.
It proved to be an inspired choice for BMW-Sauber as two races later Kubica finished third in the Italian Grand Prix, equalling the team's best result of the season in his third ever race in F1.
Kubica's first full season in Formula 1 in 2007 will be remembered for his crash in the Canadian Grand Prix: one of the most spectacular crashes of recent times, from which he miraculously escaped without serious injury.
His crash ruled him out of the subsequent USGP at Indianapolis, notable for being the debut of Kubica's stand in: future four-time Formula 1 World Champion Sebastian Vettel.
Kubica would perform well throughout the season – before and after his accident – with eight top six finishes and a sixth place in the World Championship his reward.
Kubica remained with BMW-Sauber for 2008, and it would prove to be Kubica's best to date in F1.
The season began strongly with a hat-trick of podiums in the first six races. But better was to come, when in the seventh race of the season – one year after his horror crash at the same circuit, Robert Kubica scored his first win in Formula 1 at the Canadian Grand Prix.
Three more podiums would follow before the end of the season – a season of two halves that promised much more than Kubica's fourth place in the Championship delivered.
Kubica's fourth and final year with BMW-Sauber proved winless in a season dominated by regulation changes that allowed Brawn – a brand new team created from the ashes of Honda's failed F1 project ('which one?' you might ask…) – to dominate the first half of the season, and that relegated World Champions McLaren to the back of the grid.
A second place at the Brazilian Grand Prix proved to be the high point of the year, BMW bowed out of F1 and Robert Kubica joined 2005 & 2006 World Champions Renault for 2010.
But it wasn't all plain sailing. Renault were reeling from the 'crashgate' scandal, where, at the 2009 Singapore Grand Prix, the team conspired to win the race for lead driver Fernando Alonso by instructing his team-mate Nelson Piquet jnr. to crash.
As a result of this, Renault, on the brink of withdrawing from the sport, sold three-quarters of their team to investment firm Genii Capital.
Kubica's contract, only valid if Renault had a controlling interest in the team, considered leaving, but with his options limited, chose to stay.
The podiums (or is it podia?) that Kubica had now become accustomed to continued with his new team, and a series of strong drives over the course of the season prompted many observers to judge his overall performance among the best of any of the drivers on the grid.
It's been since reported that Ferrari approached Kubica in an effort to secure his services should the underperforming Felipe Massa (potentially still affected by the effects of the injuries sustained in a freak accident the previous season where he was hit in the head by a part of Rubens Barrichello's Brawn ahead of him) be ousted by mid-season.
As it turned out, Massa was resigned, and Kubica was retained by Renault – now rebranded 'Lotus Renault' – for 2011.
Then came his accident.
In the close season, Kubica had chosen to take part in the Ronde Di Andorra rally.
Driving a Skoda Fabia on the first stage, he left the road and collided with an Armco barrier at high speed.
The Armco barrier pierced the front of his cockpit, slicing up through his forearm partially amputated it, breaking his right leg, elbow and shoulder, as well as causing Kubica to lose a dangerous amount of blood.
He was airlifted to Santa Corona hospital where he underwent three lengthy operations in an attempt to minimise the damage sustained in the crash.
It was immediately obvious that Kubica would miss the start of the 2011 season, and so 'Lotus' signed Nick Heidfeld as his replacement. How soon he would be able to return to F1, if at all, remained uncertain.
In November 2011 Renault announced that Kubica wouldn't be able to ready for the 2012 season and it appeared that his F1 career was over.
But Kubica wasn't done with racing. He resumed rallying in September 2012, participating in the European, WR-2 and WRC Championships over the course of the next five seasons – a World Rally Championship-2 win the highlight.
In what was considered a bit of a sensation at the time, in June 2017 it was announced that Kubica would test for the Renault Formula 1 team. This spawned a second and third test, intended to give Renault the opportunity to evaluate Robert's ability to resume the Renault career he had to park in 2011.
Renault decided not to pursue the option of seating Kubica in one of their cars, but he was back, and fans and the media loved it.
In October 2017, Williams decided to give Kubica the opportunity of testing one of their cars with a view to partnering Lance Stroll for the 2018 F1 season.
Williams' CTO Paddy Lowe commented that 'there are no issues' caused by Robert's injuries that would prevent him once again competing in Formula 1, but alas, Sergey Sirotkin was chosen to drive the second Williams FW41 in 2018 and Kubica was appointed reserve driver – a role that would see him participate in a number of Friday practices throughout the course of the year.
With twelve months with Williams proving that he was capable, determined and ready to resume his F1 career, and with a financial backer to support his case, it was announced at the final race of the 2018 season in Abu Dhabi that Kubica would indeed return to F1 in 2019 with Williams, where he partners Britain's George Russell.