Williams Racing and its #1 driver George Russell have scored an emotional first podium together in a rain affected Belgian Grand Prix at Spa-Francorchamps.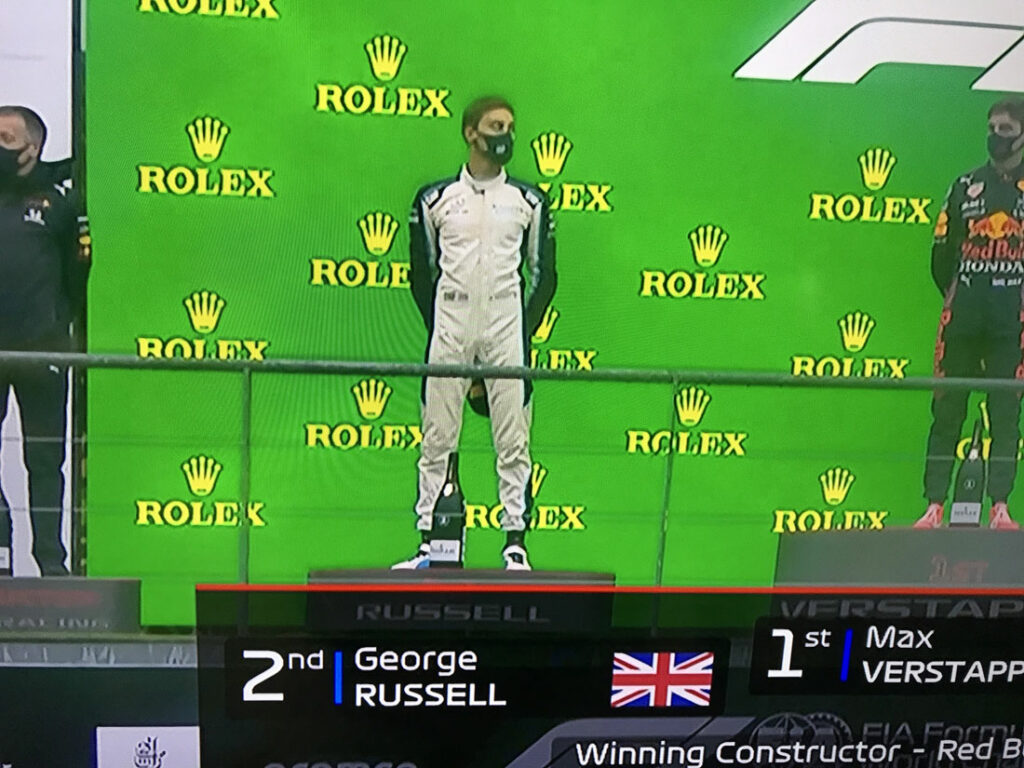 Many years of hard toil and struggles since the podium last entertained a Williams driver somehow all now seem worthwhile with an unexpected second place finish.
And yet a podium seemed highly unlikely ahead of the Grand Prix despite George's front row starting berth with Williams' strategists concluding that he had at his disposal the 17th quickest car (bettering just his team-mate and the two Haas).
But Williams' race pace would become irrelevant in a Grand Prix that never actually got started, despite the FIA's rewriting of the rules in a desperate attempt to complete an official race distance (2 laps) in order to meet all its contractual obligations, declare the result official and avoid having to worry about refunding the poor souls who'd sat out in the rain for hours, and had paid handsomely for the privilege. (More about that later).
Importantly, all of the 'laps' (warm up laps and out laps – usually not considered 'laps' – were quickly reclassified as full laps to add to the total and allow F1 to declare it a result) were completed behind the safety car, where no overtaking is allowed, and as such, none of Williams' competitors were able to capitalise on Williams' relative lack of race pace.
And so, when the race was declared late yesterday afternoon, with no more running possible, it was in qualifying order and George took his first ever podium in his three years in Formula 1, and Williams their first since the 2017 Abu Dhabi Grand Prix.
Would George have finished on the podium if the race was allowed to start? Perhaps, perhaps not.
Let's not forget Alpine's Esteban Ocon – a driver George regularly outqualifies – won the last Grand Prix, and the wet weather always, but always leads to higher than usual attrition. Combine this with George's clear ability to get the most out of his car in the rain, and you just never know.
If nothing else, it was a just reward for George Russell and Williams for an outstanding effort in qualifying – not just at Spa but over the course of the season.
They say fortune favours the brave, and if Williams and Russell benefitted from luck on Sunday then it was as a result of a bold strategy by the team in qualifying to do just one qualifying run in Q3 with a full battery (where all around him played it safe by doing two) and a stellar job by Russell to put in a lap of 2m 00.086 that bettered the time all but Verstappen was able to do.
The last three Grands Prix: Silverstone (Q3 and a top ten in the sprint race), Hungary (double points) and now Spa (front row, podium & double points!) have been Williams' best three races in years and show genuine signs of an upturn in form and results.
Williams are back baby! #wearewilliams