Williams driver Sergey Sirotkin escaped an enormous collision with 2018 World Champion Lewis Hamilton in qualifying for Sunday's Brazilian Grand Prix at Interlagos.
Russian Sirotkin, enjoying a run out in Q2 for the first time since the Italian Grand Prix in September, was told by the Williams team that his tyres were down on optimum temperature, the team having been unable to put his tyres in tyre-blankets between runs.
This meant that with half a lap to go before attempting a quick lap, Sirotkin had to push his Williams FW41 to get heat into his Pirellis ensuring they were ready for when he crossed the start/finish line to begin a flying lap.
This was at odds with what Lewis Hamilton was doing, with his car primed to set a time, the Briton was cruising, attempting to engineer himself track position with decent distance between his Mercedes and the car in front so that his lap wouldn't be compromised by having to run in 'dirty air'.
This meant that the speed differential between the two was huge, and when they arrived on the same piece of tarmac, Hamilton, not expecting a car to be arriving at quite such a pace, quickly swerved to move off the racing line. Sirotkin, not expecting Hamilton to move quite as sharply had to drive off track to avoid hitting the back of his Mercedes.
Afterwards, Sirotkin was pragmatic about the incident:
"To be honest (there is) nothing I'm too angry with him for."
"Basically that out lap was as quick as my any other lap, almost. I was properly flat out, I was coming through the very quick left hander there, and he was stopping to prepare his lap."
"He gave me the racing line but I was already on the left so I had to pass through the grass and basically my lap was ruined after that."
"But he's a champion, he knows what he's doing and didn't change my position at the end of the day."
Lewis Hamilton, however, was less impressed:
"As far as I knew no one behind was on a lap so I was making sure I had a gap, then all of a sudden out of turn 11 I saw a car coming."
"I thought someone might have been on a lap…but he wasn't on a lap so I don't really know what his thinking was."
"We all know to keep our space by that point so it was generally quite a disrespectful move."
"It was completely unnecessary because he had a space behind. Ultimately his lap and my lap weren't great."
Hamilton was hauled up in-front of the stewards to explain his version of events, but they decided neither party was to blame and both drivers continued their Brazilian Grand Prix weekends without penalty.
Video: Watch it here and make your own minds up who was to blame.
Sirotkin eventually qualified in 15th position for the Brazilian Grand Prix, four places ahead of his Williams team-mate Lance Stroll who, failing to progress beyond Q1 will line up for Sunday's race in 19th place.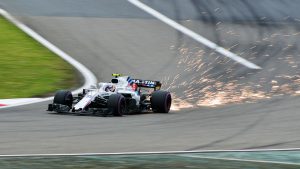 Image: emperornie [CC BY-SA 2.0 (https://creativecommons.org/licenses/by-sa/2.0)], via Wikimedia Commons