Nice Superted reference eh??
Even Spottyman couldn't have zapped life into Williams' pair of FW41s at this weekend's USGP as both drivers failed to make it out of Q3, gained a couple of places thanks to grid penalties elsewhere, then lost them again on lap one where each Williams found its way into the side of a different McLaren.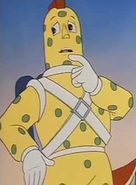 With the race seriously compromised from the get-go, particularly Lance for whom damage was compounded by a penalty for causing a collision, it was a plod to the finish and a 15th for Sirotkin and Stroll one place back in 16th.
A far from delighted Paddy Lowe said after the USGP: 'These aren't the finishing positions we hoped for today and so we look forward to a better result in Mexico.'
You know it's been a bad season when 15th and 16th place finishes is considered a decent result, but that's exactly what it was. Decent. Not startling, hardly inspiring, but decent.
I'm hoping for better than decent in Mexico. Not expecting, just hoping.