This Friday my Dad and I are travelling to Paul Ricard for the French Grand Prix to cheer on with Williams team, and it's a bit of a landmark Grand Prix for us – it's our 40th Grand Prix together!
We live in the North East of England, so our journey is a bit of an epic one.
It begins at 5.30 am on Friday when I set off from Gosforth, Newcastle-upon-Tyne bound for Alnmouth railway station, picking up my Dad, Ken, from Alnwick en-route.
Our train leaves Alnmouth at 6.55 and arrives in Edinburgh at just after eight-o-clock, where we hop on a bus from Edinburgh Waverley to Edinburgh airport, hopefully in plenty of time for our Ryanair flight to Marseille at 11.20.
All being well (with Ryanair you take your chances!) we arrive in Marseille at five to three local time, we pick up a car and drive the 45kms east to Le Castellet, ideally missing the infamous traffic that builds up around the Paul Ricard circuit on race weekend.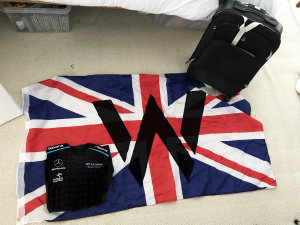 Having negotiated our way to the circuit we're hoping to pitch our tent somewhere within walking distance of our grandstand at the Sainte Baume corner, although what's considered 'walking distance' at a Grand Prix might be considered 'driving distance' at any other time!
Our first Grand Prix together was the British Grand Prix of 1987 where we shouted ourselves hoarse cheering Nigel Mansell and Williams on to victory, and since then we've seen highs and lows – notably with 'our Nige' in 1992, and Damon 1996, with last year's disastrous British Grand Prix weekend for Williams being one of the lowest low points.
As Williams fans we go to France in the knowledge that we're unlikely to see a Williams car challenge for wins, podiums or points, but hopefully we'll be watching a team well on the road to recovering their place at the very front of F1 in the very near future!
And hopefully we see a cracking Grand Prix too!
It's all very exciting – I'll keep you posted as to how we get on.
#ComeOnWilliams #FrenchGP