Formula 1 has announced that its calendar will include a race around the streets of Hanoi, Vietnam for the first time in its history with the 2020 Vietnam Grand Prix.
The multi-year deal, first brokered by Bernie Ecclestone, and subsequently closed by Liberty broadens F1's reach in Asia as they attempt to crack previously untapped markets.
"We are thrilled to be here in Hanoi, one of the most exciting cities in the world right now with such a rich history and an incredible future ahead of it.
"This is the perfect formula for Grand Prix racing and I look forward to this becoming a real highlight of the F1 calendar." said Formula 1 CEO Chase Carey.
So will the Vietnam Grand Prix be a long term success, and prove it's a worthy addition to the Formula 1 calendar?
Or is it likely to be a short term opportunity for Hanoi to raise its global profile and for Liberty to attempt to sell F1 to another growing market with little motor racing legacy, swelling its calendar, and proving to hosts of existing Grands Prix that there are countries only too willing to step in should they decide to try and engineer themselves a sweeter deal?
I've looked at a few key areas that could point to whether it's likely to become a regular on the F1 calendar for years to come.
Track Layout
Having released a map of the proposed circuit around the streets of Hanoi, despite claims that some of its turns are modelled on existing corners at tracks across the world, the Vietnam Grand Prix circuit's stand out feature is its straights.
One enormous straight with a bit of a kink, another huge straight and a slightly shorter straight. The mid-speed corners in the final section appear to be dictated by their path around a public square and a sports stadium. Joining it up are a few hairpins.
There seems to be very little elevation change.
Think a Sochi/Baku combo and you're not far off.
From a racing perspective, Hanoi's difficulty could be that drivers aren't going to chance a manoeuvre in any of the corners when they can use one of the massive DRS zones to get the job done without risk.
So while F1 says 'What's certain is that fans attending should be treated to plenty of action – not a procession' an F1 car here will have Monza-like levels of downforce to cope with the vast straights and so they're likely to teeter round the corners which will further reduce opportunities for racing.
Spa Francorchamps it is not.
Interest in Formula 1
Traditionally Vietnam has had little involvement in motorsports.
Vietnamese people are famous for their love of gambling, but until recently betting on sports was banned, and so there was little scope for any sport to grow.
Once these rules were relaxed, motor racing became viable and Vietnam opened its first racetrack in 2016 to capitalise on the potential interest it might create.
Vietnam's most popular sport is football, but even interest in that is such that Vietnam are currently placed 102nd in the FIFA World rankings behind Palestine and Madagascar despite a population one and a half times that of the UK.
The country won their first gold medal at the 2016 Summer Olympics in Rio.
Because of its lack of historical interest in sport/motorsports, even Bernie Ecclestone, not typically known for turning down an opportunity to make a few quid when it's in the offing, decided that a Vietnamese Grand Prix was a step to far in taking F1 to places with zero motor-racing heritage and little local interest.
But the same could be said of Singapore prior its addition to the calendar in 2008, and look at what a fundamental part of the calendar it has become. So what differentiates Singapore and Hanoi? I was just getting to that…
Wealth of Vietnam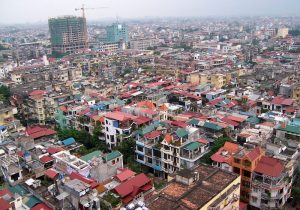 Following economic and political reform in 1986, and their inclusion in the WTO in 2007 Vietnam's economic growth rate has been among the highest in the world.
However, their nominal GPD in 2018 is $220 billion – 1/12th of the UK's and Vietnam's population is 1/3rd higher.
Their GDP per person is $2,500 – lower than Laos and Honduras. Nearby Singapore's GDP per capita by comparison is over twenty times higher.
Possibly most tellingly, Vietnam's GDP per capita is a quarter of that of Malaysia, and they recently dropped from the F1 calendar, having found it difficult to justify escalating costs and dwindling attendances despite super cheap ticket prices.
With the estimated cost of hosting a Grand Prix, even on a street circuit, to be $100million per year (Forbes), and the Vietnamese people having so little wealth, it's difficult to see how Vietnam can possibly recoup any of that cost via sales to locals.
Presumably, Vietnamese officials will justify the cost via the number of foreign visitors to the country over the course of the weekend, alongside the investment that will hopefully occur on the back of the global exposure Formula 1 will bring, its 21 races being watched by 390 million people in 2017.
But while Austin in the US state on their website that an estimated 300,000 people are drawn to the city over the course of Grand Prix weekend bringing an additional $400million to the local economy, will people be drawn to Vietnam in similar numbers?
Well, in 2017, Vietnam welcomed 12 million international tourists. Visitors to the US from abroad in 2017 totalled almost 80 million.
So while this is a fairly rudimentary way of comparing the relative attractiveness of a country, it does suggest that Hanoi might not fare quite as well as Austin in trying to tempt F1 fans to its Grand Prix.
In short, Vietnam might be facing quite a meaty loss from the hosting of its Formula 1 Grand Prix. It might quickly find it's unsustainable, a la South Korea, India, Valencia, Malaysia and Turkey.
And Britain.
Infrastructure & location
Vietnam is located about 1,500kms North of Singapore, from where the Grand Prix circus is likely to be arriving.
The population of Hanoi is around 8 million – its airport is around 30kms from the city centre.
Because the Vietnam Grand Prix is a street race, spectators will have all the retail and hospitality Hanoi has to offer on their doorstep.
But it's limited.
While there's a beautiful old town and much to see as a tourist, there's very little in the way of a downtown or a financial district. Because of this, accommodation for teams, Formula 1 support and your western Grand Prix fan expecting a degree of luxury, while cheap, is likely to be difficult to find.
Something both the Mexican and Malaysian Grands Prix struggle/struggled with was the presence of another, more attractive Grand Prix in close proximity.
The Vietnam Grand Prix could find itself in a similar situation with the Singapore Night Race a short hop away.
That being said, it could be an opportunity for the Vietnamese to tap into some of those F1 fans, and convince them to make it a south-east Asia double header instead of returning home after Singapore.
But if Malaysia couldn't do it, then why would Vietnam?
In conclusion
None of the above makes me think that the Vietnam Grand Prix is likely to be anything other than a two or three season wonder before it becomes financially unsustainable and a footnote in F1 history.
Is it an epic track (like in Belgium)? No.
Are the Vietnamese people demanding a Vietnam Grand Prix (like they are in Holland)? No.
Are locals able to pay the kind of money for ticketing, hospitality and in retail that such a costly event requires to be self-funding/financially worthwhile (Like they are in Britain)? No.
Are the Vietnamese Government in a position financially to be able to throw money at creating a must-see spectacle (Like they do in Singapore)? No.
Does Vietnam have a massive tourism market that they can convince to attend a Grand Prix despite having little interest in F1 (Like they do in the US)? No.
So the more pertinent question might be 'Can Vietnam achieve everything they want to by hosting the Vietnam Grand Prix before they find out that they can't afford it?' And the answer to that is possibly, yes.
But I can't see them being part of Formula 1 long term.
And if Liberty are happy with that short-term approach where they exploit a market until the point of it quickly being no longer viable, then so be it, but I'd suggest that they have a responsibility to be more strategic in their approach, because one day there won't be anywhere left to exploit.