Hi If you're looking for a nice piece of Williams Formula 1 memorabilia to display in your living room or man-cave, look no further than eBay right now, where you can find Jacques Villeneuve's Williams FW19 rear wing from the 1997 Spanish Grand Prix at Jerez.
This was the race at which Villeneuve sealed his only World Championship, and Williams' last to date, and was notorious for Michael Schumacher's dastardly move to scupper Villeneuve's attempt to pass him, bashing into the Canadian at Dry Sac corner.
Thankfully Schumacher missed anything breakable, Villeneuve went on to score the points he required to win the championship and the German ended up in the gravel and disqualified from the entire championship for his shenanigans.
Of course, such a significant piece of Williams and Formula 1 history comes with a hefty price tag – winning this little beauty is going to set you back a cool £3,500.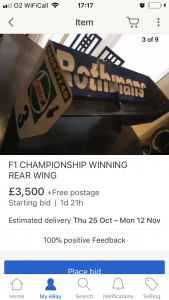 If you're looking for something a little more modest, you bag yourself a pair of Valtteri Bottas' Williams scuds for twenty five quid. Bargain!!