Liberty think they're reinventing Formula 1 by taking it to city centres across the world to whet the appetite of potential fans, but in reality it's all been done before.
On the morning of Sunday 27th February (this day 14 years ago), ahead of the 2005 season opening Australian Grand Prix at Albert Park in Melbourne, then Williams driver Mark Webber drove his Williams FW26 across the Sydney Harbour Bridge.
The world famous 503 metre long, 50 metre wide 53,000 tonne longspan bridge was closed for five hours to allow both locals and, via a live nationwide TV broadcast Australians nationwide, to experience Formula 1 against the backdrop of one of the world's most iconic landmarks.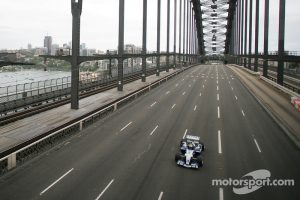 "The road was a little slippery and a little bumpy, but it was an amazing experience. I took it easy as the tyres were cold."
"I was concentrating to make sure it all went smoothly. As I came over the crest each time and saw the empty road ahead it was incredible." Webber said after completing ten or so trips across the bridge, performing a u-turn at either end as he did so.
"I can't think of a better appetiser for the following weekend's Australian Grand Prix in Melbourne. For me, it's even more special as it's my home country and I'm very proud that we are able to stage such a spectacle to promote Formula One, not just in Australia but around the world."
This promotional demo run signalled the start of Webber's 2-year F1 career with the BMW Williams F1 Team during which he competed in 37 Grand Prix, scoring 43 points, with one top three finish.
While the stunt was primarily to generate publicity for Formula 1, the Australian Grand Prix which would take place the following weekend and BMW Williams and its sponsors, the organisers also cobbled together some nonsense about road safety, in an effort to make the event seem more legitimate, and less gratuitous.
"Safety comes first, second and third in Formula One, and while the racing might be fast, it is conducted in an environment where every safety consideration is given prominence" said Webber, most likely having been handed it on a piece of paper immediately prior to saying it.
Take a look at video of the event below: