I might be a bit late to the #10yearchallenge party, but I thought I'd do a little comparison of the Williams team of ten years ago and the Williams team now.
There's no doubt that a lot has changed in that time – there have been nine cars between the Williams FW30 the team used in the 2008 F1 World Championship and the Williams FW41 of last season and in that time, eleven drivers have driven for the team.
During the 2008 season, Williams' driver live up was Nico Rosberg, son of former Williams World Champion Keke Rosberg and Kazuki Nakajima, son of less successful former Formula 1 driver of the 1980s and 1990s Satoru Nakajima.
Between them they scored 26 points in the 2008 Formula 1 season (where the scoring system was different and fewer points were available and for top six finishes only) including two podiums for Rosberg.
In 2018, Williams' drivers were Lance Stroll in his second season of Formula 1 and F1 debutant Sergey Sirotkin. Between them they scored seven world championship points.
Williams best performance in 2008 was the Singapore Grand Prix where Rosberg finished second only to winner Fernando Alonso.
Alonso profited when his team-mate Nelson Piquet junior crashed – deliberately it would later transpire – to bring out a safety car, allowing Alonso to take the lead when everyone else stopped for tyres, having just pitted himself.
Had it not been for 'crashgate' as it was later known, Rosberg would have been celebrating his maiden Formula 1 win and Williams their first since 2004 instead of a fine second place.
Sadly, in 2018 it would have taken at least a dozen drivers to deliberately crash in order for either Williams to win. Their best finish was an 8th place for Lance Stroll in Azerbaijan.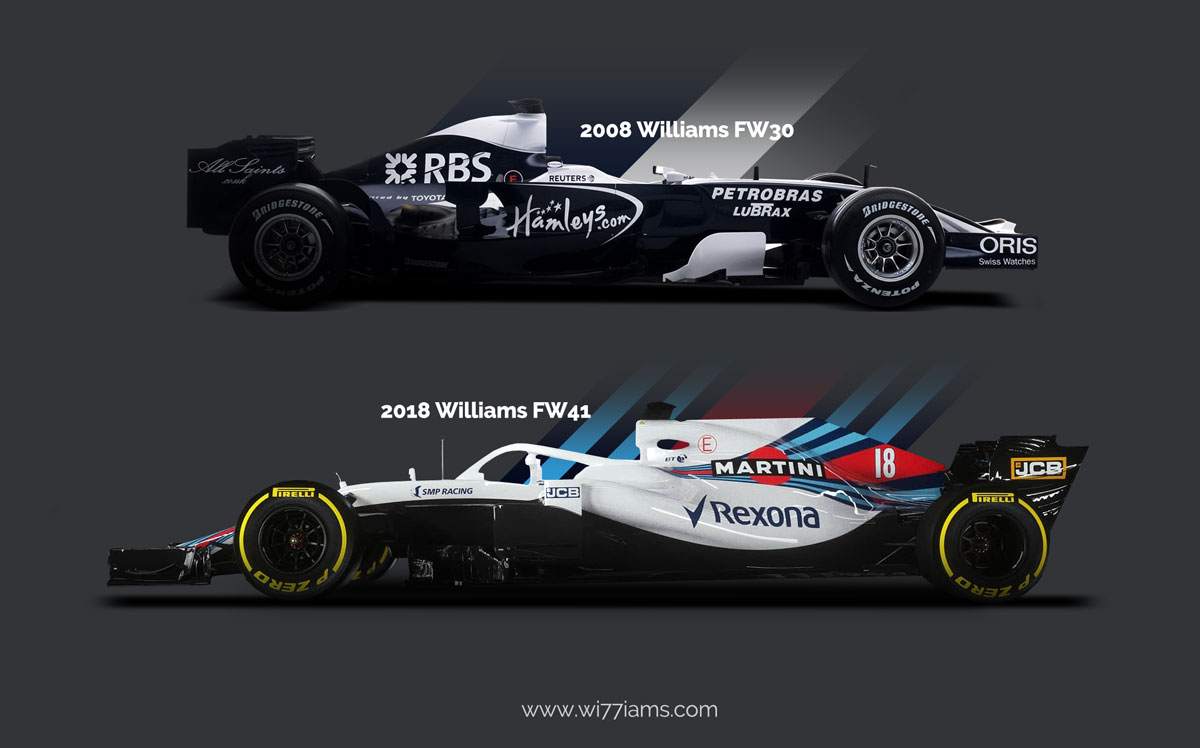 Side-by-side
| | | |
| --- | --- | --- |
| | 2008 | 2018 |
| Car | Williams FW30 | Williams FW41 |
| Engine/Power unit | Toyota RVX-08 2.4 litre  naturally aspirated V8 | Mercedes 1.6 litre hybrid turbo V6 |
| Technical Director | Sam Michael | Paddy Lowe |
| Total Points | 26 | 7 |
| Championship position | 8th | 10th |
| Team Principal | Sir Frank Williams | Sir Frank Williams/Claire Williams |
| Title Sponsor | AT&T | Martini |
| Tyres | Bridgestone | Pirelli |
| Drivers | Nico Rosberg & Kazuki Nakajima | Lance Stroll & Sergey Sirotkin |
| Podiums | 2 | 0 |
| Best finish | 2nd | 8th |
| Odds to win the following year's championship | 50/1 | 500/1 |
| Fuel | Petrobras | Petronas |