The 2019 Formula 1 season is approaching half distance and the Williams Team are yet to make any significant inroads into the laptimes of its competitors in F1's midfield, despite showing the odd sign of gradual improvement.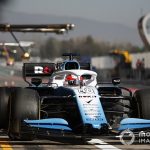 The relatively chaotic build up to the Austrian Grand Prix (driver penalties, engine changes, big offs and impossibly hot weather) appeared to be an opportunity for George Russell and Robert Kubica to capitalise on the misfortune of others and steal a few places on the grid, and maybe, just maybe the race itself.
However, a penalty for George Russell for unknowingly blocking Toro Rosso's Danil Kvyat in qualifying compounded by a front wing change under parc ferme conditions put paid to any hopes the young Briton might have harboured of his first midfield start in Formula 1.
If he was disappointed by his resulting pit-lane start, then it didn't show as he maintained his ever-positive, ever-professional outlook taking the demotion with the grace we now expect of him.
Robert Kubica, slowest of all the qualifiers profited three places from all the disruption, lining up 17th on the grid.
At lights out, Kubica jostled for position and Russell quickly joined the midfield pack, and at once managed to sneak by Kubica and Kvyat shuffling Kubica to the back of the field.
Magnussen received a penalty for incorrectly positioning his Haas on the grid which moved him to the back and both Williams cars up a position.
However, when he rejoined his pace was too much for Kubica and he slipped by, once again demoting the Pole to 20th and last.
Russell was able to fare slightly better, holding his own at the tail end of the midfield until around lap 16 when the foibles of his Williams FW42 told and he slipped back.
The Haas team (#betterthanredbull let's not forget) are having issues of their own at present, and despite flashes of brilliance, their car is killing its tyres and despite closing on Russell towards the end of the race, the Williams driver was able to keep Magnussen at bay to take 18th position.
Unfortunately for Kubica (and Russell to a lesser extent) the race of high attrition we hoped for didn't manifest itself and all cars finished a Grand Prix for just the seventh time in Formula 1 history, leaving Robert 20th and last with Russell two places ahead in 18th.
"Those opening laps [of the Austrian Grand Prix] were good" said George Russell on the Williams website, post-race.
"I was pushing absolutely flat out every single lap, and I'm glad it was noticed. We need to be patient now and wait for some more downforce to come to the car"
Kubica's mood showed a little more despondency:
"It was a difficult race. The pace was not there. I gained a few positions on the opening lap, but then the handling was very bad. I tried to defend but it was so difficult to keep the cars behind. I am lacking overall grip and in these conditions when it is hot, when there is a lot of overheating and the tyres are suffering a lot, I am just sliding even more."
Next up it's Silverstone, Williams' and Russell's home Grand Prix and scene of Williams' first Grand Prix win forty years ago.
You don't have to be Maurice Hamilton to know they're not going to be repeating that success this year, but we'll be there cheering them on nonetheless!
#COMEONWILLIAMS