To mark the occasion of Sir Frank Williams' 50 years in Formula 1 as a team boss, first with Frank Williams Racing Cars and subsequently with Williams Grand Prix Engineering, Williams Heritage collaborated with classic car dealers ROFGO to produce a Frank Williams Racing Cars liveried Brabham BT26 for Williams Heritage driver Karun Chandhok to take up the hill at Goodwood.
The Brabham BT26 in question is chassis 4, the one Jacky Ickx drove to victory in the 1969 German Grand Prix, and so not one from the Williams' stable.
However the team at Williams Heritage have gone to some lengths to recreate the car's exact specification as the Frank Williams Racing Cars' Brabham featured when it was driven to second place in the 1969 Monaco Grand Prix by Frank Williams' great friend Piers Courage, right down to the white front wings, Piers' number 16 and the exact shade of dark blue.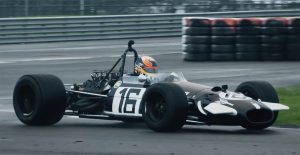 As you can see from the photo the car looked absolutely stunning when it hit the track.
Designed by Ron Tauranac the BT26 is was an evolution of the BT24 and Brabham's final space frame car (ie one constructed of fibreglass panels over a tubular steel frame), before the regulations necessitated a move to cars built around a monocoque.
Making its debut in 1968 the BT26 took Brabham to second place in the 1969 Formula 1 Constructors Championship, helped by two second places for Courage in his Williams entered car, while Ickx scored a brace of wins in Canada and Germany.
Like the majority of the F1 field it was powered by the trusty Ford Cosworth DFV engine.
It is alleged that when Jack Brabham sold the car to Sir Frank he agreed to do so on the condition that it was to be used in the Australian Tasman series and therefore not in direct competition with the Brabham team in Formula 1.
Obviously there must have been some sort of misunderstanding (cough!) because there's no way in the world that Frank Williams would have agreed to such a thing if he had meant to run the car in Formula 1 all along, even if it did mean the difference between getting the car he was after and missing out!
Check it out in all its glory here: