We might be approaching the penultimate act of the 2019 Formula 1 season, but with a new front wing Williams continue to push ahead with developments of its FW42 that could carry forward into the winter and the season beyond should they show promise.
Formula 1 2019 has been a bit of a write-off for Williams. Late arrival for pre-season testing in Barcelona set the tone for a below-par season that has yielded a solitary point for Robert Kubica in a crazy German Grand Prix and a goose egg for team-mate George Russell, despite the Briton proving to be consistently quicker.
There comes a point in the season where little more can be achieved, and the thoughts of the team turn to the future. And this would certainly appear to be the thinking behind Williams' latest update.
With talk in the air of where Lewis Hamilton will win his sixth Formula 1 World Championship rather than if (the general consensus is Mexico) Williams have brought an 'experimental' front wing to the Japanese Grand Prix in the hope that it will not only benefit the performance of their car short term, but also long term too.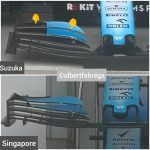 'Experimental' new front wing
The principle behind the new front wing is that it will increase the outwash effect, whereby air that comes into contact with it will be pushed outwards around the outside of the front wheels where it will then curl back in to meet other aero devices around the sidepods and rear wing where it can be re-used to create more downforce.
The shape of the adjustable parts of the front wing flaps has been updated and as a consequence their surface area has been reduced.
The front wing endplates have also been modified and look more pronounced.
Williams will hope that the update gives them the aero advantage they've been seeking all season, allowing them to finish the season strongly and providing the perfect springboard from which to tackle 2020.