Designed by Patrick Head, Frank Dernie, and Neil Oatley, the Williams FW07 made its debut at the 1979 Spanish Grand Prix.
Loosely based around the Lotus 79, the car was small and simple, light with clean lines and an uncluttered aerodynamic design. It was again, powered by the Ford Cosworth DFV.
Pre-season it was mooted as being a strong contender for the 1979 title, but while it was the first Williams car to lead races, it was undone by minor reliability issues which cost any chance of strong results in the early part of the season, and ruled out any chance of the title.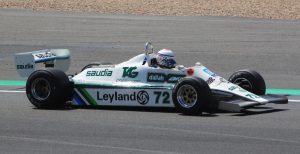 The FW07 and Williams' first win came in the hands of Clay Regazzoni at the 1979 British Grand Prix at Silverstone, and four more victories were to follow in with Alan Jones before the close of the season, placing Williams in second in the World Constructors Championship.
Real success was to come in 1980, when the FW07 powered Jones and Williams debutant Carlos Reutemann to first and third in the World Drivers Championship with 6 Grand Prix wins between them. Their points haul also amounted to Williams first World Constructors Championship win.
For the 1981 Formula 1 season a modified FW07 (now using the badges FW07B and C) powered Jones and Reutemann to wins at Kylami, Long Beach and Jacarepaguá.
In an effort to replicate the Brabham team and their suspension lowering system which attempted to sidestep the ban on ground-effects, Williams found themselves on the back foot, until later on in the season when they again found form with another couple of wins and their second consecutive World Constructors Title.
Williams 1982 Formula 1 campaign once again begun with two FW07Cs, and a second place each for new arrival Keke Rosberg and Reutemann. Amid political tensions between the UK and Argentina over the Falklands, and with one-eye on a career in politics, Reutemann decided to withdraw from the Williams team, leaving Rosberg as team leader when the FW08 arrived at the beginning of the 1982 'European season'.
Williams FW07 Specs
| | |
| --- | --- |
| Designed by: | Patrick Head, Frank Dernie & Neil Oatley |
| Year(s) active: | 1979, 1980, 1981, 1982 |
| Official entrant: | Albilad-Saudia Racing Team/TAG Williams Racing Team |
| Drivers: | Alan Jones, Clay Regazzoni, Carlos Reutemann, Desire Wilson |
| Engine: | Ford Cosworth DFV 3-litre normally aspirated V8 |
| Tyres: | Goodyear/Michelin |
| Fuel: | Mobil |
| Brakes: | Lockheed vented discs, Ferodo pads |
| Transmission: | Hewland 5-speed manual |
| Preceded by: | Williams FW06 |
| Succeeded by: | Williams FW08 |
---
Williams FW07 Results
1979
| | ARG | BRA | RSA | USW | ESP | BEL | MON | FRA | GBR | GER | AUT | NED | ITA | CAN | USA |
| --- | --- | --- | --- | --- | --- | --- | --- | --- | --- | --- | --- | --- | --- | --- | --- |
| JONES | | | | | DNF | DNF | DNF | 4 | DNF | | | | 9 | | DNF |
| REGAZZONI | | | | | DNF | DNF | 2 | 6 | | 2 | 5 | DNF | 3 | 3 | DNF |
1980
| | ARG | BRA | RSA | USW | BEL | MON | FRA | GBR | GER | AUT | NED | ITA | CAN | USA |
| --- | --- | --- | --- | --- | --- | --- | --- | --- | --- | --- | --- | --- | --- | --- |
| JONES | | 3 | DNF | DNF | 2 | DNF | | | 3 | 2 | 11 | 2 | | |
| REUTEMANN | DNF | DNF | 5 | DNF | 3 | | 6 | 3 | 2 | 3 | 4 | 3 | 2 | 2 |
1981
| | USW | BRA | ARG | SMR | BEL | MON | ESP | FRA | GBR | GER | AUT | NED | ITA | CAN | CPL |
| --- | --- | --- | --- | --- | --- | --- | --- | --- | --- | --- | --- | --- | --- | --- | --- |
| JONES | | 2 | 4 | 12 | DNF | 2 | 7 | 17 | DNF | 11 | 4 | 3 | 2 | DNF | |
| REUTEMANN | 2 | | 2 | 3 | | DNF | 4 | 10 | 2 | DNF | 5 | DNF | 3 | 10 | 8 |
1982