Although visibly different to its predecessor due to the introduction of a new set of regulations for the 2015 season, the Williams FW37 was an evolution of the successful FW36.
It first took to the track at Jerez on the 1st February 2015 at the first official Formula 1 test of the year.
Much of the work to develop the FW37 was to remodel the front of the car to comply with the FIA's 2015 regulations on the allowed height of the nose for increased safety.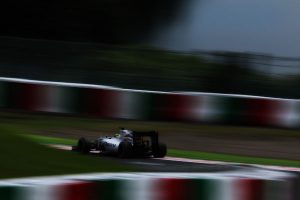 This lower front section resulted in a significant reduction in frontal downforce and compromised the airflow over the rest of the car behind it and so it required a lot of work to minimise this loss.
The rear wing was also developed to make it lighter via the support of a central column rather than through the endplates.
On-track, a car that was designed to challenge for wins fell short somewhat.
The FW37 turned out to be less competitive than its predecessor, the FW36 but scored points at all but three Grand Prix: the USGP where the team suffered its only double DNF all season, and the two slowest circuits on the F1 calendar – Monaco and Hungary.
This would give the team food for thought when bringing upgrades to the car and would inform the design of the FW38 – how to get a car that performs well when cornering at high speed to also perform better when cornering slowly.
Although drivers Valtteri Bottas and Felipe Massa in their second season with the team managed to secure third place in the World Constructors Championship, the four podiums achieved by the team was below what was expected pre-season.
Williams FW37 Specs
| | |
| --- | --- |
| Designed by: | Pat Symonds |
| Year(s) active: | 2015 |
| Official entrant: | Williams Martini Racing |
| Drivers: | Felipe Massa, Valtteri Bottas |
| Engine: | Mercedes 1.6 litre hybrid turbo V6 |
| Tyres: | Pirelli |
| Fuel: | Petronas |
| Brakes: | AP 6 piston front and 4 piston rear calipers. Carbon pads & discs |
| Transmission: | Williams 8-speed seamless sequential semi-automatic shift (plus reverse), gear selection electro-hydraulically actuated |
| Preceded by: | Williams FW36 |
| Succeeded by: | Williams FW38 |
---
Williams FW37 Results
2015
| | AUS | MAL | CHN | BHR | ESP | MON | CAN | AUT | GBR | HUN | BEL | ITA | SIN | JPN | RUS | USA | MEX | BRA | ABU |
| --- | --- | --- | --- | --- | --- | --- | --- | --- | --- | --- | --- | --- | --- | --- | --- | --- | --- | --- | --- |
| MASSA | 4 | 6 | 5 | 10 | 6 | 15 | 6 | 3 | 4 | 12 | 6 | 3 | DNF | 17 | 4 | DNF | 6 | DSQ | 8 |
| BOTTAS | DNS | 5 | 6 | 4 | 4 | 14 | 3 | 5 | 5 | 13 | 9 | 4 | 5 | 5 | 12 | DNF | 3 | 5 | 13 |
2015
MASSA
4
6
5
10
6
15
6
3
4
12
6
3
DNF
17
4
DNF
6
DSQ
8
BOTTAS
DNS
5
6
4
4
14
3
5
5
13
9
4
5
5
12
DNF
3
5
13