Williams Racing has launched a new 'Global fan hub' – a fan initiative to try and better engage with its fanbase in the midst of the team's best Formula 1 season in some time.
Netflix's Drive to survive series – a sort of docu-soap that follows a number of different F1 narratives over the course of a season in an effort to give people a behind-the-scenes look at Formula 1 and bring the sport to a whole new audience – has done just that, and led to a spike in interest in a number of key markets.
And each of these new fans is looking for a team and a driver to support, and while most will go straight to the sharp end of the grid and the winning/big name drivers.
But it's important that the teams a little further back who might not get as much tv time do as much as they can to try and engage with fans – both new and old (because existing F1 fans are important too guys!) – in order to get them on side.
And so Williams' new 'Global Fan Hub' attempts to do just this – capturing the attention of fans everywhere, giving them the opportunity to enter competitions, win prizes, get 'dedicated content', engage with the team and generally have a lovely time whilst doing it, making them feel good about the Williams team.
Williams Global Fan Hub launched on the weekend of the 2021 USGP at Austin, and offered fans a chance to be crowned Williams biggest fan!
There's no official confirmation of who this is yet, but Mrs M – my wife – is walking around with an extra swagger and a smugness you get when you beat your Williams fan husband in a test of knowledge and skill! (She was top of the leaderboard when the competition closed! 😀 )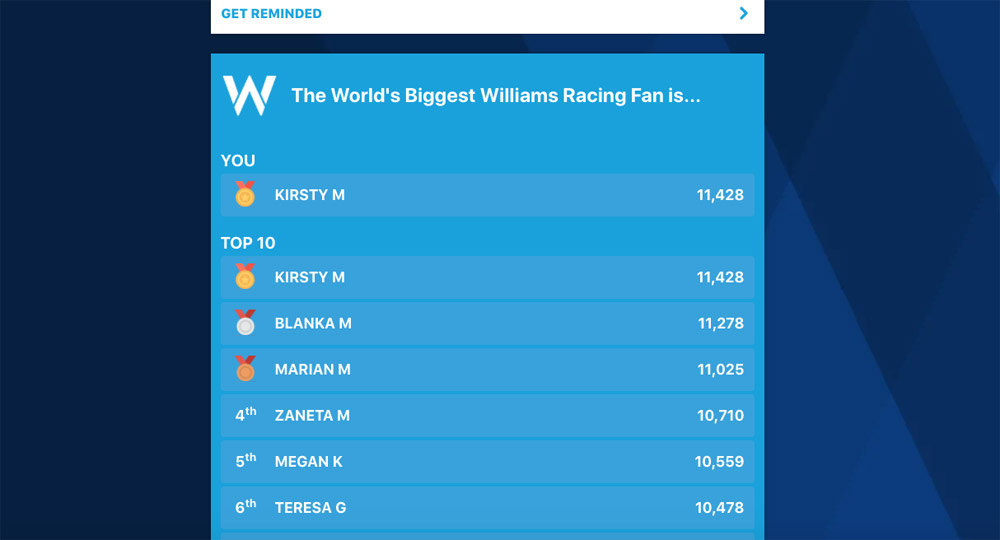 In an age where fan engagement is becoming increasingly important, and mutually beneficial, Williams want to be at the forefront of relationship building, and this is a good step towards that, and should ensure one of F1's most liked and respected teams continue to be well supported in future.